Interstate 91 starts at I-95 in New Haven; passes through Meriden, Hartford, and Enfield, where it leaves the state. Continues through Springfield, Mass., into Vermont, and to the Canadian border. There, Quebec Autoroute 55 continues another 130 miles, crossing the St. Lawrence seaway.
Interstate 91's lane configuration (discounting operational lanes) is:
I-95 to Route 40: 8 lanes
Route 40 to Meriden: 6 lanes
short Meriden section between the Route 15 roadways: 4 lanes
Meriden to Route 9: 6 lanes
Route 9 to Route 3 (Putnam Bridge): 8 lanes
Hartford area: mixed.
Route 20 to Mass. state line: 6 lanes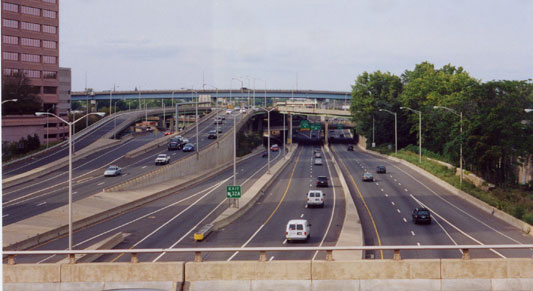 Complicated collector and distributor ramps at the I-91/I-84 interchange in Hartford. View is northward from the Founders Bridge pedestrian walkway over I-91. This interchange was reconstructed in the late 1980s and completed in 1990.
From left to right, the roadways are: I-91 southbound (SB) exit to State Street; I-84 EB entrance to I-91 SB; I-91 SB lanes; I-91 NB exit (32A) to I-84 WB; I-91 NB local lanes (access to exits 32A-32B); I-91 NB express lanes. At top is the I-84 EB flyover to I-91 NB.
Photo taken Sept. 2002 by Kurumi.
Points of Interest
In New Haven, the exit 3 interchange (Trumbull Street) would have been the northern terminus of a planned ring road circling downtown and Yale University.
Further north, the interchange at Exit 6 was built anticipating the East Rock Connector, which was cancelled.
At East Main Street in Meriden, I-91 runs between the opposing roadways of Route 15 for a short distance, as the freeways converge then diverge. At Airport Road in Hartford, they meet again, but in this instance I-91 parallels Route 15 to the west, before crossing again at the Charter Oak Bridge approach.
In Rocky Hill, between exits 23 and 24, you can see where an interchange with I-291 was planned. There was even an overpass built above the southbound lanes, but it was dismantled during a widening project in 1999.
In downtown Hartford, northbound I-91 splits into two local lanes and two express lanes (see photo above). At Interstate 84, the northbound lanes are two levels below the southbound lanes, with I-84 in between and a flyover ramp above them all. Further north are the HOV lanes.
HOV lanes
I-91 north of Hartford has two High-Occupancy Vehicle (HOV) lanes, one in each direction. These are separated from the general-purpose lanes by striped areas (about 15 feet) and have their own entrance and exit ramps. The I-91 HOV exits are:
merge with I-91 south (SB only)
Liebert Road (SB off, NB on)
Route 218 (NB off, SB on)
Route 305 (NB off, SB on)
Route 75 (NB off, SB on)
merge with I-91 north (NB only)
The other freeway in Connecticut with HOV lanes is I-84 east of Hartford.