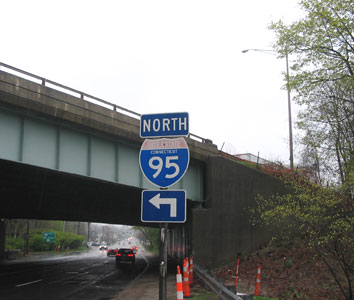 US 1 passes under I-95 (formerly the Connecticut Turnpike) in Darien. Photo taken April 2004 by Kurumi.
Hey, I-95, it's not us: it's you. Motorists just don't like you.
The big stories about I-95 include the planned widening, interchange modifications, and new bridge at New Haven; and a proposed widening to six lanes from Exit 54 in Branford to exit 92 in Stonington.
I-95 Profile
New York state line to East Haven: 6 lanes, plus operational lanes in some places
East Haven to Baldwin Bridge approach, Old Saybrook: four lanes
Baldwin Bridge: eight lanes (six thru lanes, and two operational lanes)
Old Lyme to New London: four lanes
Gold Star Bridge: nine lanes (six thru lanes)
Groton, to about Route 117: six lanes
Remainder to Rhode Island: four lanes
Other points of interest include a five-ramp interchange at the Sherwood Island Connector, and a cloverleaf at US 1 in Milford.