Particle/Wave Duality in Darien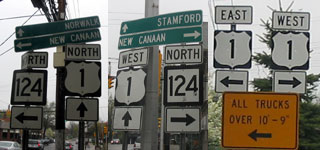 Should US 1 be signed north-south (as the highway runs nationwide), or east-west (as it does in Connecticut)? At Route 124 in Darien, you see both. Photo taken by Kurumi in April 2004.
US 1 is America's original East Coast highway, leading from Key West, Fla. to Fort Kent, Maine. In Connecticut, the highway enters at Greenwich and exits at Stonington.
US 1 dates back to the 17th-century Boston Post Road, and until about 1960 was one of Connecticut's most important highways. Today, it is overshadowed by I-95, which serves the same cities and never ventures more than a few miles away.
As miserable as crossing the state on I-95 can be, using US 1 would take much more time. The road is four lanes in most spots west of New Haven, and two lanes in others. It serves town centers and commercial strips. It has been reported that there is an average of one Dunkin Donuts shop every two miles on US 1.
Points of roadgeek interest: a cloverleaf (one of few in the state) at I-95 in Milford; a grade separation at Route 100 in East Haven; and the several former alignments and US 1A's of decades gone by.
East-west or north-south?
Nationwide, US 1 is unambiguously a north-south highway. In Connecticut, however, the shoreline is nearly horizontal, and the way from Greenwich to Stonington is much closer to east than north. The preferred way to sign US 1 here varies, sometimes even at the same intersection (see photo.)
In the state's official highway log, however, US 1 is north-south.
Scenic US 1
This could be a surprise to Fairfield County drivers: On Oct. 14, 2008, the state designated a 2.3-mile stretch of US 1 as a scenic road. Disclaimer: the road is further upstate, in Madison, from From Neck Road #2 north to Lovers Lane.