Route 2 approaching Route 32, Norwich (with rhyming sign)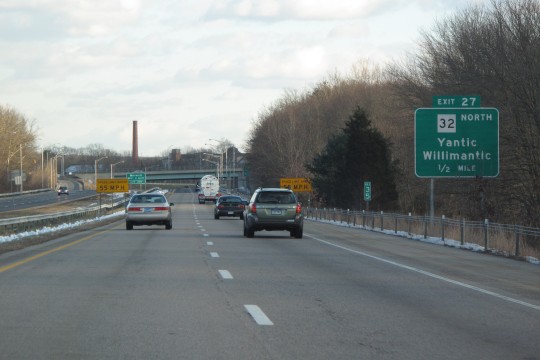 On Route 2 eastbound approaching junction with Route 32 in the Yantic section of Norwich. This interchange was constructed in 1959 and rebuilt in 2001. This photo was taken in December 2009.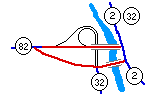 Interesting grade-separated intersection with routes 32 and 82 in Norwich.
Route 32 is one of a few multi-state routes that date back to the "New England Interstate" era in the 1920s. Route 10 and Route 12 are two others (and reach Keene, N. H. along with Route 32); Route 8 is the fourth.
The most ambitious of Connecticut's statewide plans called for a Route 32 freeway, extending from Norwich to Stafford. Though that plan was tabled, there are several wide spots in the road as you drive north.
Starting in New London, Route 32 is a freeway for about a mile; then it becomes a four-lane divided highway (with at-grade intersections) that opened in 1940. Just north of the the Montville Connector (aka SR 693), leading to I-395 northbound, Route 32 narrows to two lanes.
I-395, I-95, and Route 32 with the Montville Connector form a triangle, working together to provide access to New London from Norwich (via Route 32) and New Haven (via I-95). Even though the interchanges at 95/395 and 395/693 are incomplete, most traffic will still have a direct route to its destination.
South of Route 2A, Route 32 widens to four lanes briefly; retail and other development has bloomed here because of its proximity to the Mohegan Sun casino.
After joining Route 2 in Norwich, Route 32 shares the Route 2 freeway across I-395 into Fitchville. North of there, Route 32 is a two-lane road for the rest of its length in Connecticut.
An interesting intersection with grade separation at Route 82 (shown) in Norwich opened in 1985. The plan for this dates back to 1974.