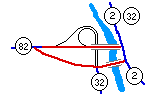 Interesting grade-separated intersection with routes 32 and 82 in Norwich.
Route 82 starts from a trumpet interchange on Route 9 as a three-lane limited access undivided highway, once planned to connect to a new bridge over the Connecticut River. This 2.6-mile roadway ends at Route 154; Routes 82 and 154 overlap for a short distance.
When Route 82 turns east, it crosses the Connecticut River on the steel-truss East Haddam Bridge, which can swing open for tall ship traffic, and alights on the east bank at the picturesque Goodspeed Opera House.
Continuing east, Route 82 is a rural two-lane road, with a modern roundabout at Route 85 in Salem. It later reaches I-395 in Norwich, at a 5-ramp interchange. Then it widens to four lanes leading toward downtown Norwich, and terminates in an interesting grade-separated intersection with Routes 2 and 32 (shown).