The 1968 Federal Aid Highway Act authorized 1,500 additional miles for the nation's Interstate highway system. Among the added routes was an interstate connection between Hartford and Providence. Many long-time residents remember this as the proposed Interstate 84 realignment that created Interstate 86; but the original number for this route was Interstate 82.
Interstate 82 didn't last long; my guess is that Connecticut found it unsuitable and requested a change. (Reasons follow.) By early 1969, work was underway to rename I-82 to part of I-84, and another part of I-84 to I-86. On June 21, 1971, before any segments of future I-82 were open, the FHWA made this change official.
Here's a scan from the Interstate system status map as of March 31, 1969: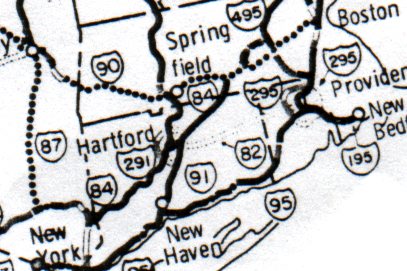 Detail of 1969 FHWA Interstate system status map shows I-82 proposed from Hartford to Providence
This is an interesting wrinkle to the I-84/86/84 renumbering saga. Let's examine what would have happened if the I-82 number had prevailed:
State route 82, a fairly important route from Haddam to Norwich, would have needed another number. Connecticut doesn't allow multiple routes of the same number: old state routes 84, 91 and 95 were renumbered for this reason. The conflict with CT 82 was a strike against I-82.
I-84 would have remained on its Wilbur Cross Highway route. Connecticut might have desired a "straighter" I-84 toward Providence, and seen amending the I-82 plan as an opportunity to achieve it.
There would have been no need for the I-86 number.
Interstate 82 is now a mere footnote in Connecticut history: the Providence connection was cancelled in the early 1980s. For more information, see From Hartford to Providence.
Another short-lived numbering conflict: 87
Around the same time (1970) as I-82/86, a new interstate passing through Greenwich created the same conflict with another state route: Interstate 87, which had a grand total of 1.4 miles in Connecticut, versus state route 87 east of Hartford. CT 87 was not renumbered, probably because the chance for confusion was small, and I-87 was maintained by New York state. (About a year after the highway opened, I-87 was rerouted, and former I-87 became I-684.)