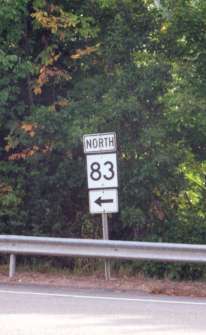 Start of Route 83 in Glastonbury, as seen from the end of the Route 2 eastbound exit ramp. Photo taken 2002 by Kurumi.
Though Route 83 officially starts at New London Turnpike, a block south of the Route 2 freeway, for practical purposes it starts at Route 2 and heads north. It's a narrow, curvy two-lane road until reaching I-384 in Manchester, after which it becomes Main Street. The five-ramp interchange at I-384 was seven ramps in the original plan, but the diagonal and loop ramps in the southwest quadrant were removed from the design.
The segment of Main Street from Hartford Road to Center Street in Manchester is city-maintained, even though it's signposted as a continuous route. (The reason: merchants on Main Street preferred angle parking over parallel, to allow more shoppers ... details on this later.) The maintenance gap sometimes shows up as a different-colored line on maps.
Route 83 is four lanes wide through much of northern Manchester and Vernon. An interesting interchange in Vernon allows traffic from I-84 eastbound to pass over Route 30 on the way to Route 83 northbound.
Route 83 is busiest in Manchester and Vernon, and quiet in other towns. In Glastonbury, however, northbound traffic exhibits a surprising surge after midnight, as cars leaving the casinos to the southeast use it as a shortcut back to Manchester.