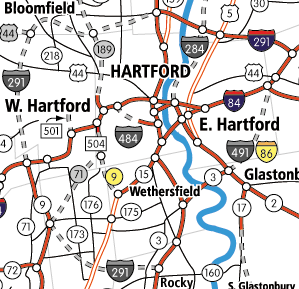 Cancelled freeways inside the I-291/491 area, greater Hartford, circa 1963. Red freeways were built. Dotted gray routes were cancelled. A
larger map
extends from Enfield to Middletown, and Plainville to Bolton.
Introduction
Many people know that Hartford's highway system was not completed as planned, and some proposed highways from "way back when" such as I-291 were cancelled.
On I-84 in Hartford and West Hartford are "ghost ramps" and freeway stubs ending at local streets or in midair; and less obvious are some highway elements that were designed with the expectation of other highways (that were later cancelled) "taking up the slack" in traffic requirements.
In this page we look at a snapshot summary of metro Hartford planned freeways in the 1960s, the decade where future plans were most ambitious. There's a fun map with all these roads, and links to specific pages with more information.
The three main sources for this page are:
Connecticut State Highway Department. "A Report to the Highway Users of Connecticut: 1960-1961." Includes a lot of "Route X from Town Y to Town Z" line items, many with no further detail. For some routes like 140, that's all I have.
"Survey Plots Expressway Plans." Hartford Times, Jan. 1, 1963. Nice summary of many proposed routes.
Connecticut Highway Department. Planning for the Future: Connecticut's Major Corridor Needs - Present to Year 2000. Wethersfield: 1968. A "Composite of Regional Plans" map ties all the wish lists together (as my map does).
Some freeways planned in the 1940s and 1950s don't show up here. And all plans I know of after 1970 are a subset of the 1960s plans.
Let's get to the highways.
Plans dating back to the late 1950s called for a simple beltway system around the city. Interstate 491 through East Hartford was part of Connecticut's original 1957 interstate highway mileage. Interstate 291, serving the other four quadrants of the circumference, was added later.
I-491 was never built, except for the Putnam Bridge, now part of Route 3 between Glastonbury and Wethersfield, which opened on New Year's Eve, 1958. East Hartford opposed the highway, contending that it already had more than its share of freeways slicing across town. In 1968, the proposed I-491 became part of the proposed I-86 extension. In 1973, funds for it were traded in for other projects.
I-291 met similar opposition. In the northwest, proximity to reservoirs providing area drinking water caused concerns about runoff. In the southwest, concerns were over property instead of pollution. In the early 1970s it became apparent I-291 would not be built west of I-91. The northeast portion of 291 did open in 1994.
Interstate 284, first proposed as the "relocated Route [U.S.] 5," would have connected the Governor Street ramp in East Hartford to I-291. More far-reaching plans would extend I-284 or US 5 up to East Windsor to meet I-91. Environmental concerns (wetlands) helped kill I-284 in the late 1980s.
Interstate 484 would have handled I-91 and I-84 connecting traffic, relieving the incomplete I-91/84 interchange downtown. The existing Whitehead Highway (built in 1945) would have been extended under Bushnell Park to meet I-84 at exit 48. I-84's 3-level split at Asylum Avenue was intended to accommodate I-484 ramps.
I-84's original 1956 route was as it is now, ending at I-90 in Sturbridge. In the 1960s and 1970s, Connecticut and Rhode Island planned to run I-84 east to Providence instead. I-84 east of Manchester was rechristened I-86 in late 1968. However, concerns over the Scituate Reservoir (Providence's water supply) in I-84's path scuttled the plan, and in 1983 I-84 was moved back. The South Manchester portion of the old I-84 became I-384.
This was the old numbering for Route 189 leading to Route 10 in Granby. A section of Route 189/187 freeway opened in 1960 as Route 9. In 1963, however, Route 9's northern end was brought back to Cromwell. (Later, it was extended through New Britain to I-84 in Farmington.)
The state had planned for Route 10 to be upgraded to a freeway from New Haven all the way to Massachusetts. Several studies were done, but all that was built was SR 597, the long ramps at I-84 exit 29 in Southington.
A planned extension of the existing Route 17 freeway to a proposed Route 66 freeway in Portland. A 1960s planning study predicted Route 17 traffic would outweigh US 7 traffic between Danbury and New Milford.
Two extensions were proposed: one across the river to eventually meet I-84 near Tolland, and another toward proposed Route 10 in Granby. (A 1961 plan included extending Route 20 to I-84 near Union, and US 44 in Colebrook!)
The idea of a US 44 freeway, which some long-range plans proposed all the way to US 7, fell out of favor in the 1970s.
This would connect I-291 at the Route 72 connector to the Cedar Ridge Connector (SR 504 / Old Route 9).
Proposed to extend to Route 8 in Thomaston. Currently a four-lane boulevard extension to Bristol is planned.
The citations for this one don't specifically say Route 83, but the corridor is described well enough that 83 would be a natural number for this proposed highway.
Mentioned in 1961as an expressway from Windsor to Bolton. That's it. It was absent in the 1963 proposal. My route on the map is just a guess.
Mea culpa again: I'm assigning a likely number when the sources don't indicate one. But again, it would be a reasonable numbering. Included in the 1968 plan.
This highway, starting at Exit 46 on I-84, would have followed the existing Route 189 to the east, connecting to either a Route 10 freeway or Route 20 near Bradley International Airport. A short freeway section in North Bloomfield, which routes 187 and 189 share, opened in 1960. The exit 46 ramps are officially SR 503.
SR 501 - Trout Brook Connector
The Park Street ramps (I-84 exit 43) would have continued up to about Farmington Avenue in West Hartford center. I don't know of a planned number for this route. The existing stub freeway is SR 501.
SR 504 - Cedar Ridge Connector
The Flatbush avenue ramps (I-84 exit 45) would have connected with the Berlin Turnpike near the 314 split in Wethersfield. This was once planned as part of the old planned Route 9 freeway (renumbered to the planned Route 189 freeway in 1963).
Would the Route 189 designation have been extended south? I don't know. The existing stub freeway is SR 504.
Related Links