The original planned I-291, a 20-mile western bypass from Rocky Hill to West Hartford to Windsor, is one of Connecticut's most famous unbuilt highways. Opposition began in earnest around 1970, and that highway was cancelled in March 1979. There's probably enough history with this road for a 200-page book; for now, we'll have to make do with a web page.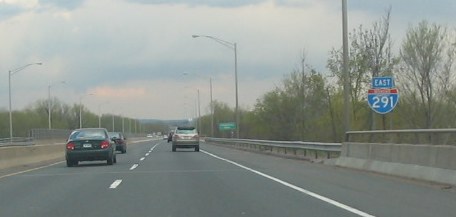 I-291 eastbound, approaching Bissell Bridge, Windsor. Photo taken April 2004 by Kurumi.
Today's four-lane I-291 freeway, which completely opened in 1994, incorporated the Bissell Bridge over the Connecticut River and a freeway connector to US 5, both of which opened in the late 1950s.
Along with a proposed I-491 (also cancelled), the full I-291 proposal would have created a complete beltway around Hartford.