Introduction
The Berlin Turnpike, 11 miles of four-lane divided highway between Meriden and Wethersfield, has changed roles since its construction in the early 1940s. For its first 20 years, until Interstate 91 opened to the east, the Turnpike was the primary route between Hartford and New Haven, and still sports some of the diners and hotels from that era. As many as 32 gas stations serviced travelers on the route in its heyday, giving the Turnpike its nickname "Gasoline Alley."
Now the Berlin Turnpike, part of US 5 and state route 15, serves mainly "big box" retail outlets and other businesses. Traffic continues to grow in the area, spurring discussion of improvements to the road.
Many who have driven the Turnpike, or remember the days when it was the only four-lane highway in the area, wonder why it was not built as a freeway. In the 1950s, drivers enjoyed an express highway route from Fairfield County to Massachusetts with no interruptions... except for the Berlin Turnpike's roadside businesses, crossing traffic, and signal lights.
We explain the state's reasoning for building the Berlin Turnpike as is, and discuss other history and future plans as well.
The 1800s: The Hartford and New Haven Turnpike
Although the Berlin Turnpike never charged a toll, its ancestor did two centuries ago. In October 1798, the Hartford and New Haven Turnpike Company was created, and the road opening in 1799 was one of the first turnpikes to eschew existing roads and be built on as straight a line as feasible. (Though Berlin historian Kathleen Murray reports in a New York Times article that the Hartford - New Haven Path on this route dates back to 1717.)
Leaving Hartford on Maple Street, the turnpike mostly followed today's US 5 through Meriden into New Haven, entering on Whitney Avenue.
Early 1900s: A 2-lane Turnpike
The name "Berlin Turnpike" dates back to at least the early 1900s, when 8 miles of new roadway opened on Oct. 22, 1909, between Berlin and Hartford. Called "the best eight miles of state highway in Connecticut," the new road shortened the distance from New Haven to Hartford by 6 miles, as a detour through New Britain and Newington was no longer needed. The existing motor route from Berlin to New Haven was already nearly direct.
Granted, the Hartford and New Haven Turnpike had already cut a fairly straight line between Berlin and Hartford – but that route predated motor vehicles and was not originally paved.
The new road in 1909 was 32 feet wide, including 16 feet of macadam with gutters and shoulders, and cost about $100,000.
The Berlin Turnpike was included in Connecticut's trunk line system in 1913. When the New England Interstate route numbering system was adopted in 1922, the road became part of New England Route 2. When the US route system was inaugurated in 1926, NE-2 became US 5.
Around 1940, a short bypass was built to the east of Worthington Ridge Road in Berlin, once part of the original US 5. Worthington Ridge Road became US 5A.
The Parkway Era, or Why the Berlin Turnpike Isn't a Freeway

At Route 175, Wethersfield, one of only two interchanges on the Berlin Turnpike.
The Berlin Turnpike links two segments of the Wilbur Cross Parkway and Highway, the first freeway route through the center of Connecticut. Long multilane divided highways that are not freeways are rare in the state: how did the Berlin Turnpike turn out that way? And why was a gap left in the freeway system?
The Wilbur Cross Parkway as planned in the late 1930s would have handled through traffic only, and bypassed large cities. (The WCP doesn't exactly tunnel through downtown Hartford or New Haven as the interstates do, but the Parkway would have ventured even further afield.) Two bridges were planned for Hartford, several miles to the north and south. For an idea of how rural the parkway's character would be, a river crossing between Rocky Hill and South Glastonbury was later discussed.
Parkway plans changed around 1939. First, the new Charter Oak Bridge (to open in 1942) provided an opportunity to cross the Connecticut River, though it was closer to Hartford. Second, studies found that Hew Haven to Hartford traffic substantially exceeded New York to Massachusetts traffic; therefore, it made sense to bring the Parkway closer to the two Connecticut cities, creating a long segment parallel to US 5. Third, a new "dike boulevard" along the river dike in Hartford (now Interstate 91) provided direct access to downtown Hartford should the Parkway connect to it.
At the same time, a statewide highway planning survey placed a high priority on fixing safety and capacity deficiencies on US 5 between Meriden and Hartford. The two-lane road suffered from steep grades and heavy truck traffic. The state was faced with improving this road and building a new freeway nearby.
To save time and money, the state decided to widen US 5 to four lanes with a median. Where the existing road condition was good, two more lanes would be paved alongside, with the old lanes used for the other direction. Where the current road was too hazardous or steep, new roadway would be built.
The highway commission outlines the benefits of the plan in its 1940 biennial report: cost savings, avoidance of overbuilding for traffic needs, and keeping options open: "... temporary termination of the Wilbur Cross Parkway at a point opposite Middletown leaves a great deal of freedom of future action in regard to extension of the Parkway..."
Not only would US 5 be improved first: business owners along the route lobbied to prevent the construction of any bypass route at all. In 1955, they shepherded a bill through the General Assembly to terminate the Wilbur Cross Parkway at Meriden. A few years later, however, plans for Interstate 91 took shape; and in 1965, the new I-91 provided a freeway bypass to the Berlin Turnpike.
Widening the Turnpike
The first segment to be improved was the so-called Berlin By-pass, a 7,000-foot segment of 4-lane divided highway bypassing Worthington Ridge Road. Concrete was poured starting in September 1939, and the new road opened in 1940 as part of US 5. Worthington Ridge Road became US 5A.
In March 1940, the state approved $1.2 million in funding to widen the remainder of US 5 between Meriden and Nott Street in Wethersfield to four lanes divided.
Much of the widening work was completed in September 1942. Most roads crossed the new highway at grade, but there were also four interchanges, three of which are unchanged today:
the US 5 / Route 15 split in Meriden
partial cloverleaf (4 ramps) with Route 72 in Berlin. This was upgraded to a cloverleaf in 1962 for the Route 72 freeway, and upgraded again when Route 9 was extended in 1989. It looks like the ramp pair between the Turnpike and Route 372 survived both upgrades.
partial cloverleaf (6 ramps) at Route 175 and SR 424 in Newington. There are long-range plans to replace this with a SPUI.
the Route 314 split in Wethersfield
In 1948, the Merritt - Wilbur Cross string of parkways and highways from Greenwich to Union, including the Berlin Turnpike, were designated Route 15. The Turnpike kept its US 5 designation as well, and to this day is routes 5 and 15.
Future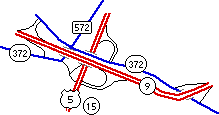 Berlin Turnpike interchange with Routes 9 and 372, Berlin.
Though the Berlin Turnpike is no longer part of the primary cross-state highway system, it still carries substantial traffic. In 1997, the Central Connecticut Regional Planning Agency (CCRPA) started a Turnpike Corridor Study, to address current and future needs for the area. The study's intent was to increase safety and address traffic needs for the next 20 years. Ideas included widening the grass median, providing dual left-turn lanes at some intersections, providing an auxiliary lane in each direction for people turning out of driveways, and widening the turnpike to six lanes overall.
Six proposals for modifying the interchange at Route 175 (see diagram) were rejected, among them a full cloverleaf deemed too massive for the area. (As it turns out, the early 2001 recommendations from CRCOG include replacing it with a single-point urban interchange (SPUI)).
In April 1999, the agency unveiled proposed improvements, including a 60-foot median south of Route 9, widening to six lanes in the same area, consolidation of median cuts, and additional turn lanes.
In June 1999 the Berlin Town Council rejected the six lanes and wider median, saying the plan didn't benefit residents or businesses, and asked for better access to Route 9. (Pictured is the complex interchange of Routes 5, 15, 9, and 372, built when Route 9 was extended in 1990.)
In late 2000, the CCRPA unveiled its recommendations. These were:
Close the median opening and remove the stoplight from the intersection near Orchard Road
Place a traffic light at New Park Drive
Widen the route to six lanes near Route 9
Place a traffic light near Toll Gate Road
Add lanes at the intersection of Deming Road (Route 160). This change may affect adjacent properties.
Place a traffic light at Bishops Curve
Close the median near Meadow Lane.
The Capitol Region Council of Governments (CRCOG) also conducted a Berlin Turnpike corridor study, and released its recommendations in early 2001. They include:
modify the interchange at the Berlin Turnpike into a single-point urban interchange (SPUI), and add landscaping to create a "gateway" into Wethersfield and Newington.
Realign the Route 287 intersection (Robbins and Prospect) to eliminate the dogleg.
Find ways to eliminate some curb cuts and median breaks.
Meriden 5/15 merge improved in 2002
In June 1999 the state held a hearing on a planned improvement to US 5/Route 15 interchange at the Turnpike's south end. At the time, there was inadequate merging distance going northbound, and a flashing light (red for US 5 traffic, yellow for Route 15) controlled the merge. In November 2002, work was complete: now there is a 550-foot acceleration lane for US 5 to merge without having to stop. Line of sight has been improved, and the flashing signal lights, no longer needed, are gone.
Overheard...
"My favorite part of any trip was not the towns themselves but what happened in between them... There was a stretch of road just south of Hartford where the parkway turned into something called the Berlin Turnpike, which had traffic lights and a 35 mile-per-hour speed limit. It was lined with gas-war gas stations and honky-tonk diners and drive-ins ... My parents' generation thought these buildings were ugly and commercial and tacky, but I just saw them and swallowed them whole from nearly day one." - John Margolies, in "Chronicler of the Road", quoted by Karen Eisenberg
Low rider knows every street, yeah
The Berlin Turnpike is now home to a healthy cruise scene, with up to 500 cars and trucks of all types on a weekend night.
Trivia
Until 2002, the Berlin Turnpike was officially called something else in Berlin: The Wilbur Cross Highway. Town officials sought to formally apply the Berlin Turnpike same for consistency, and this was done in 2002. As of that summer, the old signs were still standing.
Also: Berlin, Conn., unlike its German counterpart, is accented on the first syllable.
Politicians: No, it's not trivia
On further research, I found a bill submitted to the state General Assembly, H.B. 5897: "An Act Renaming a Portion of the Wilbur Cross Parkway." Its purpose: "To redesignate the portion of the Wilbur Cross Parkway that passes through the town of Berlin as the 'Berlin Turnpike'".
The bill was introduced on Jan. 16, 2001, and had a public hearing on Feb. 15, 2001. As far as I can tell, the bill languished, but then Berlin went ahead and changed the town's name for the road.
Meriden Mayor Joseph J. Marinan Jr, when asked about the Berlin Turnpike, remarked: "I don't think Wilbur Cross would want that part of the highway named after him."
If by "garish", you mean "scenic"
Hartford Courant writer Dennis Barone makes a case for the Turnpike having its own beauty; not the same as, but just as valid as, the Merritt Parkway a few dozen miles down Route 15:
If scenic roads "are beautiful when they reveal a link between what people do for a living and the land itself," as the Place article [another Courant essay] asserted, then I can't understand why the Berlin Turnpike isn't an official "scenic road"? Why is some out-of-the-way winding tar along the Housatonic in Cornwall labeled "scenic"? For whom amongst us does that road beckon?
[Architect Robert] Venturi asked: "Is not Main Street almost all right? ... Is not the commercial strip of a Route 66 almost all right? ... What slight twist of context will make them all right?" His answer: "Perhaps more signs ... ."
The Berlin Turnpike (1942) is our Via Sacra, and the Olympia Diner (1952) is our Triumphal Arch. Whereas covered bridges evoke the horrors of so many headless horsemen, eyes light up with fond memory or present-day joy at so much as a mention of the Pike.
In Connecticut, headless horsemen are accommodated on Route 128, at Bull's Bridge in Kent, and along an old alignment of Route 16.
Sources
"Opening state's best road today." Hartford Courant, Oct. 22, 1909.
Wood, Frederic. The Turnpikes of New England. Pepperell, Mass., Branch Line Press, 1997 reprint of 1919 edition.
"Pavement to Be Laid On Berlin By-Pass." Hartford Courant, Sept. 1, 1939.
"$10,000,000 On Highways Is Approved." Hartford Courant, Mar. 16, 1940.
Connecticut Highway Department. Highway Commissioner's Biennial Report. Wethersfield: 1940.
Connecticut Highway Department. Highway Commissioner's Biennial Report. Wethersfield: 1942.
"12.3 Mile Berlin Turnpike Among Oldest State Roads." Hartford Courant, July 1, 1955.
"Connecticut Yankee." Bridgeport [Conn.] Telegram, Sept. 29, 1955.
"165 Years of Commuting On the Berlin Turnpike." Hartford Courant, Apr. 14, 1963.
"Berlin Turnpike: Rest in Peace." Hartford Courant, Oct. 17, 1965.
"Highway Changes Proposed: Various Ideas Considered for Berlin Turnpike." Hartford Courant. June 13, 1997.
"Agency To Discuss Traffic Proposals." Hartford Courant. April 8, 1999.
"Route 5/15 Plan On Table." Hartford Courant. Sept. 25, 2000.
"A Road By Any Other Name" Op-ed, Hartford Courant. Feb. 1, 2001.
Route 5/15 Corridor Study, Summary of Recommendations, Capitol Region Council of Governments (CRCOG), Feb. 2001.
Larned, Larry. Route 15: The Road to Hartford. Charleston, S.C.: Arcadia Publishing, 2002.
Deschenes, Peter. "Berlin Turnpike - southern end project." Email to Kurumi, Dec. 5, 2002.
"In Berlin, a Road With an Identity Crisis." New York Times, March 18, 2001.
"There is no Berlin Turnpike, officially." Record-Journal [Meriden, Conn.], Feb. 20, 2001.
"Turnpike, officially." Editorial, Record-Journal [Meriden, Conn.], Feb. 27, 2001.
Barone, Dennis. "Pike Pique." Editorial, Hartford Courant, Jan. 18, 2004.
"The Boisterous Berlin Turnpike: Where Roadside Character Still Counts." Hartford Courant, Aug. 11, 2002. (a little roadside history)
Links