Introduction
The town of Newington, located in north central Connecticut, borders both Hartford and New Britain, and could be considered a suburb of both. Despite its central location, it has been bypassed by interstate highways, although Interstate 291 was planned to pass through. Two other proposed expressways never got as far as I-291 did; and aside from a short segment of Route 9 in the northwest, Newington is served by surface roads.
Nonetheless, there is still plenty in Newington to interest the road enthusiast. Newington is the only town in Connecticut to have four consecutive signed routes (173, 174, 175, and 176). There is a 1940s-era interchange at Route 175 and the Berlin Turnpike that might be replaced by a Single-Point Urban Interchange (SPUI) -- only the second proposed statewide. And those four routes in the 170s have had route changes and threatened cancellations in their seven-plus decades of existence.
This page will discuss the development of highways within Newington's borders, and provide links to more detail.
19-century Turnpikes
In the 1800s, one toll road crossed Newington: the Hartford and New Haven Turnpike, one of the first turnpikes in Connecticut to be drawn on new alignment, as straight as feasible between the two cities.
This turnpike opened in 1799 and was made free some time in the 1800s. In Newington, this road is now the Berlin Turnpike.
The 1920s
In 1922, a new network of New England numbered roads was created, and within a year Connecticut had started a system of statewide numbered roads. New England Route 2 followed most of today's US 5, including the Berlin Turnpike through Newington. The town's only other 1920s route was state highway 113, which followed today's Route 71 through the northwestern corner near West Farms Mall.
Newington's surface routes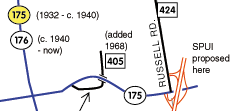 This small portion of my Newington map shows old and new aligments for Route 175, as well as its six-ramp interchange with the Berlin Turnpike. (See complete map)
Most of Newington's surface state routes (15, 71, 173, 174, 175, 176) were commissioned in 1932. Only routes 175 and 176 have seen significant alignment changes, as the map makes clear: Route 175 originally followed Main Street and Hartford Avenue (today's Route 176) into Hartford; Route 176 originally was a straight route following Main Street. When 175 and 176 were moved circa 1940, Route 176A was created on Main Street north of where 176 turns now. In 1963, Route 176A was decommissioned.
Route 176 was one of a few signed state routes slated for decommissioning as a result of the state's 1962 route reclassification. Routes 176 and 174 were omitted from some late 1960s state maps. But they were never deleted, and remain today.
Route 287 is Newington's newest signed route, created from unsigned SR 544 and part of unsigned SR 760 around 1970. Robbins Avenue (SR 760) had been a state-maintained road for quite some time.
Expressway Planning: Hartford - New Britain Expressway
Newington is home to one of Connecticut's first cancelled freeways: the Hartford - New Britain Expressway. This 4.2-mile, $3.6M highway would start at Clark and Winter streets in New Britain, and end at the Berlin Turnpike north of East Robbins Road. (The Berlin Turnpike and South Meadows expressways would provide the connection to Hartford).
The Hartford - New Britain Expressway was to connect to future planned expressways in New Britain and Plainville, and the US 6 relocation through Waterbury. By 1955, this was part of the proposed US 6 relocation itself, and part of Connecticut's planned interstate highway system: conceptually, part of future Interstate 84. (See map, below, from the FHWA "Yellow Book" in 1955.) However, the Hartford - New Britain Expressway was never built, and I-84 was relocated to the East - West Expressway alignment, where it was eventually built.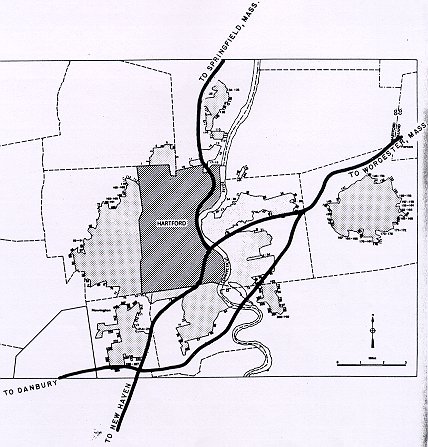 This scan shows the proposed Hartford-area urban expressways in the planned Interstate highway system in 1955. Note the "Interstate 84" alignment (no numbers had yet been assigned) through southern Newington and Wethersfield, to pick up the approximate route of proposed Interstate 491 through Glastonbury and East Hartford. This scan is from General location of national system of interstate highways, including all additional routes at urban areas designated in September, 1955, courtesy of Adam Froehlig, who scanned each of these maps for dozens of U. S. cities. Thank you Adam!
Expressway Planning: Route 71
In the early 1960s, the state planned a Route 71 expressway leading from Route 72 in New Britain, across I-291 near Wells Road in Newington, northeasterly to a planned Cedar Ridge Connector in Hartford. This proposal never got beyond the planning stages.
Expressway Planning: Interstate 291
The most famous of Hartford's cancelled expressways, I-291 would have started in Rocky Hill and continued clockwise through Newington, Farmington, West Hartford, Bloomfield, and Windsor. The segment including Newington was nearly started (in fact, a project in Wethersfield leading to the Newington line was underway), but a lawsuit in 1973 halted construction and I-291 was eventually canceled.
As it turns out, part of the I-291 alignment was eventually constructed as part of state route 9. A small part of Route 9 in Newington's northwest corner is the only segment of expressway in town.
Conclusion
My Newington town map depicts most of these route changes and cancellations, so be sure to check it out. I hope you enjoyed this treatment of Newington's roads!
Links
Sources
Connecticut Bureau of Highway Planning Studies. A report of an engineering study for expressways in the Hartford metropolitan area. Hartford: 1945.
Federal Highway Administration (FHWA). General location of national system of interstate highways, including all additional routes at urban areas designated in September, 1955. (Scans and information at roadfan.com, http://www.roadfan.com/intreg.html.
Preliminary Report on Proposed Sisson Avenue Connector and Woods River Circumferential Expressway of Hartford Metropolitan Area Expressway Study. M. Alfred Kaehrle, Dec. 31, 1955.
Connecticut State Highway Department. "A Report to the Highway Users of Connecticut: 1960-1961."
"Survey Plots Expressway Plans." Hartford Times, Jan. 1, 1963.
Wood, Frederic J. "The Turnpikes of New England." Pepperell, Mass.: Branch Line Press, 1997. (reprint of 1909 edition)