Route 15 comprises the Merritt and Wilbur Cross Parkways, the Berlin Turnpike (though its official name differs from town to town), the South Meadows Expressway, the Charter Oak Bridge, and a short segment of the Wilbur Cross Highway.
Route 15 is a four-lane parkway from New York to Meriden, a four- and six-lane boulevard (the Berlin Turnpike commercial arterial) north to Wethersfield, and a four- to six-lane freeway by Brainard Airport and over the Connecticut River.
Route 15 provides cloverleafs at old US 7 and Route 34 (two of the few left in the state). The Berlin Turnpike has interchanges at Route 372 and Route 175, and at-grade intersections elsewhere.
Points of interest for road enthusiasts include: the entire Merritt Parkway; the state's only single-point urban interchange (SPUI) at Route 111; the West Rock Tunnel in New Haven; a Route 40 overcrossing with no interchange at all; and the Charter Oak Bridge.
These pages describe parts of Route 15 in more detail: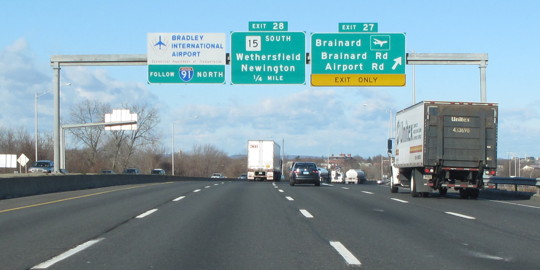 I-91 northbound, approaching the exit to Route 15 southbound in Hartford. US 5 overlaps with Route 15 here, but is not marked here.