Route 2A was conceived as a bypass around downtown Norwich, and still serves that purpose, but today it's the gateway to the Mohegan Sun and Foxwoods casinos.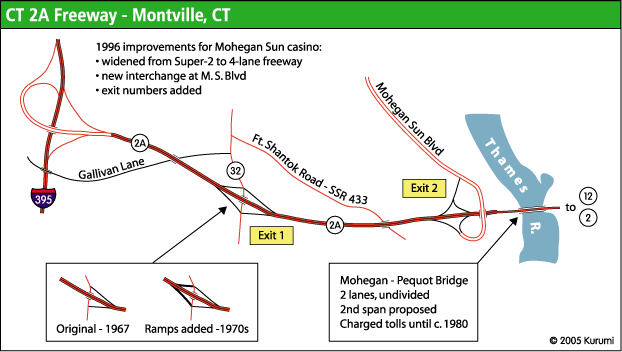 Route 2A profile
Overlap with I-395 between the 2/395 interchange and exit 79A, where Route 2A splits off. This overlap is barely signed at all; only on Route 2 eastbound do guide signs mention that I-395 southbound also carries Route 2A southbound. As far as most motorists are concerned, Route 2A begins at exit 79A.
Four-lane freeway in Montville, from I-395 exit 79A to just east of Mohegan Sun Blvd.
Two-lane undivided "Super 2" continuing on the Mohegan-Pequot Bridge over the Thames River, ending at Route 12.
Short overlap with Route 12.
Winding two-lane Poquetanuck Road, heading easterly.
Short overlap with Route 117, ending at Route 2.
Its freeway interchanges were given numbers in 1996:
As part of a signing revision planned for mid-2014, Route 2A's exit numbers will change to match milepost (distance-based) from sequential. Exit 1 will become Exit 5; Exit 2 will become Exit 6. Possibly I-395 will be signed as Exit 4.
Route 2A in Glastonbury
From 1953 to 1957, another Route 2A existed, in Glastonbury and East Hartford. When the new East Hartford - Glastonbury Expressway (Route 2 and Route 17) opened in 1952 and 1953, the former alignments had short-lived designations as routes 2A and 17A. Route 2A extended about 3 miles, leading from Route 17 in Glastonbury, via New London Turnpike and Main Street, to Brewer Street in East Hartford, which was the northern terminus of the expressway. (This is now Exit 5A on Route 2).