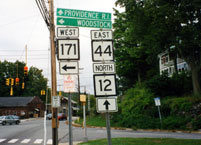 Route 12 and mis-signed US 44 at Route 171, in Putnam. Photo taken Sept. 2002 by Kurumi.
Route 12 is eastern Connecticut's original primary highway, connecting the cities of Groton, Norwich, Jewett City, Danielson and Putnam. Only in 1968, when the Route 52 freeway (now I-395) was completed, was Route 12 relegated to second place.
Route 12 is four lanes wide in Groton near the Route 184/I-95 interchange, and four lanes divided while it overlaps US 6 in Killingly; but Route 12 is two lanes otherwise. In Lisbon, I-395 southbound has separate ramps for Route 12 north and south.
As a descendant of the 1920s New England Interstate Route 12, it is now the only state highway that exists in Connecticut and three other states.
In Keene, N. H., 12 intersects Route 10 and Route 32, which also start at Connecticut's shore.