Route 136 resembles two highways, joined at the hip: a meandering shoreline road, south of US 1; and a diagonal route darting inland from Westport toward Monroe. Route 136 intersects US 1 twice, and also has two interchanges with I-95; but the western interchange is partial, to and from the south only.
A small section (1.09 miles, between South Main and Washington Streets) in South Norwalk is city-maintained; that's why some maps show a gap in the road. Only Route 83 has a similar gap, in South Manchester.
The Saugatuck River Bridge, built in 1884, is the oldest surviving movable bridge in Connecticut and is listed on the National Register of Historic Places.
Western terminus, Darien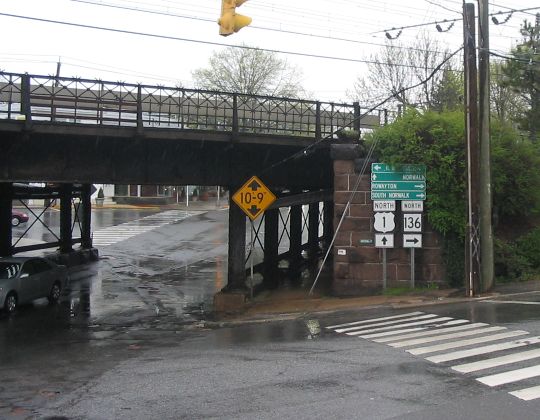 US 1 and Route 136 meet at a cramped intersection next to the Metro North overpass. More on this intersection later. Photo taken by Kurumi in April 2004.