I-880
California
(link)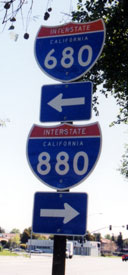 Take your pick: a short segment of Mission Boulevard in Fremont, Calif., connects I-680 and I-880. Photo by Kurumi.
47.22 miles [
1

]; the Nimitz Freeway, from
I-280
in San Jose to I-80/580 in Oakland. Named after WWII admiral Chester W. Nimitz. (The I-880 number originally belonged to
another freeway
in Sacramento.)
Sadly, in August 2002, the "Nasty Nimitz" was knighted the Bay Area's Rudest Road (most aggressive drivers) by the American Automobile Association of Northern California. [20

]
Origins
In November 1928, the Fifth Regional Council of the California Development Association called for a "super road" between San Jose and Richmond. Little was heard from this proposal again until 1940, where plans for the 6-lane Eastshore Freeway were unveiled. By 1945, it was customarily called the Route 5 freeway, for the legislative route number. A 1946 San Jose proposal called for a Route 5 Highway approximately in 880's path, with overpasses at the Alameda and San Carlos Street. The route would have paralleled Race Street to the east, which is about a mile east of where the highway runs now. [10

]
Toward the late 1940's, both sides of the issue gained momentum; State Sen. Randolph Collier backed the road, while San Jose voters passed a 1948 "Anti-Route 5" ordinance, which stated that any freeway route through the city had to be approved by referendum. (In December of that year, a judge struck the ordinance down.)
The first sections of the Nimitz, in Oakland, opened around 1948. The segment between 98th Avenue and Lewelling Blvd, originally four lanes wide, opened Jun 13, 1952. [13

] Other sections (such as between CA 262 and US 101 in the South Bay) date back to the mid-1950s. The section south of US 101 opened around 1960. The 8.8-mile "Route 5 freeway" from Los Gatos to Bascom Avenue opened on April 30, 1959. [7

][8

] For decades thereafter, the Nimitz was signed as part of state highway 17.
Originally, parts of I-880 were designated as I-280 and I-680
Before I-280 and I-680 were completed through San Jose in the mid-1970's, they were routed along 17 to meet at the cloverleaf at US 101. In 1964, the Nimitz Freeway was renumbered to 680 only, and 17 was moved to Oakland Road; but vocal public outcry resulted in restoration of the 17 numbering on the Nimitz. [17

]
Oldtimers still call it 17
Until January 1, 1986, Interstate 880 was part of CA 17, which stretched from Santa Cruz to San Rafael. An Oakland coalition lobbied in 1983 to have the road promoted to interstate status to get more funds for repair, persuading Rep. Glenn Anderson (D - Long Beach) to ride on the road. "Wow, I had no idea it was that bad," Rep. Pete Stark (D - San Leandro) recalled him saying. [2

] The 1983 legislation also gave us I-580 and I-238. (Los Angelenos would recognize the name: I-105 there is named the Glenn Anderson Freeway.)
However, the interstate promotion seemed to backfire early on, when little interstate money actually came in, and changes required by interstate standards would cost about $450 million, according to a DOT branch chief. Posting I-880 signs alone cost more than $250,000. [4

]
Quake downs Cypress Freeway
On October 17, 1989, the Loma Prieta quake caused the upper deck of the Cypress viaduct (north of I-980, Oakland, between 18th and 34th streets) to collapse on the lower, crushing 42 motorists. Like a freshman sent on-field to replace the injured star quarterback, I-980 took over all traffic from the Cypress section.
Instead of replacing the Cypress where it stood, Caltrans built a new non-decked freeway closer to the bay along the Southern Pacific tracks, away from the West Oakland neighborhood it once split. The road is six lanes from I-980 to a modified Grand Avenue interchange, where two-lane flyovers connect to the Bay Bridge I-80 approaches and two other flyovers connect to I-80/I-580 going north, completely avoiding the MacArthur Maze (80/580 interchange). (that section of road is signed 80 East/580 West.) Everything opened in July 1997, except for the I-80 east connection, which opened in spring 1998. [11

]
The Cypress section, $1.25 billion for 5 miles, is the most expensive freeway in California history at almost $4,000 an inch. This nearly doubles the unit cost of Los Angeles' 1993 I-105. Caltrans attributes the cost overruns (the initial budget was $700 million) to inflation [really?], delays, toxic cleanup, ROW acquisition, building replacement parking structures for postal workers [you don't want to get them angry :-)], and job retraining. [3

]
The 880-237 interchange
From the 1970s to the early 2000s, commuters negotiated an underpowered cloverleaf interchange at CA 237 and I-880, which caused frustrating delays on both highways. Fortunately, parts of this interchange have already been upgraded, and a modern interchange with directional flyovers and HOV-to-HOV connections could be ready by 2005.
Work on the $223 million project began in October 1998. Five flyover ramps, including the first direct HOV-to-HOV ramp in the Bay Area, will go above a separate 6-ramp Calaveras Boulevard interchange; local and freeway traffic will no longer have to share the same congested loop ramps. A $22 million HOV ramp will connect Route 237 with I-880 to the north. The "regular traffic" 237 east to 880 north ramp will be four lanes wide at the metering lights: the widest ramp in the South Bay. The 880 north to 237 west ramp, at about 80 feet, will fly above the others.
The project will be the second most expensive and second longest project in California, with first place honors going to the 10-year, $315 million I-680/CA 24 interchange in Walnut Creek.
I-880 will be widened to 12 lanes between 237 and the next interchange to the north (Dixon Landing Road); 7 north, and 5 south.
In early December 1999, the loop ramp from I-880 NB to CA 237 WB was permanently closed; instead, drivers cross 237 with the aid of a new traffic signal. A direct flyover is planned to replace this connection, but not until sometime after 2004.
On August 1, 2001, a new two-lane flyover ramp opened from I-880 SB to CA 237 WB. On September 21, 2002, a three-lane flyover ramp opened from CA 237 WB to I-880 NB, with another ramp to I-880 SB. [22

]
See also: 880/237 (City of Milpitas; budget, news and a nice diagram of the finished work)
Other Interchanges
In the early 1990s, I-880 still suffered from 1960s vintage interchanges; short ramps with small turning radii and narrow overpasses (nearly all roads crossing I-880 do so over the freeway). You can still see this in a few places south of US 101 in San Jose, but extensive East Bay reconstruction over most of the highway has made undersized interchanges a dying breed. If you've been away for a while, come on back and try I-880 out; it's almost pleasant. During non-peak hours.
In the Fremont area, interchanges were revamped between 1995 and 1998. Most of them became six-ramp partial cloverleafs with six-lane bridges for the surface street.
Here's what happened and is happening with some I-880 interchanges (information mostly from Caltrans):
Dixon Landing Rd: new 7-ramp interchange; widen overpass from 2 to 8 lanes, started 1999, finish 2004, $45 million. [19] [21] See: Dixon Landing Interchange (City of Milpitas; diagram of finished project)
Mission Blvd: to start in mid-2004. [24] No geometric details; but rumor has the severed parts of Warren Avenue reconnected over I-880 (a good idea). I saw an estimated cost of $17 million, which looks rather low.
Fremont Blvd: 6 ramps, finished late 1997, $11 million
Durham Rd (aka some dorky commercialized "parkway"): 6 ramps; finished 1996; $10 million
Stevenson Blvd: 6 ramps, spring 1998, $38 million. When this finished, the HOV lane nearby opened, making a 20-mile long lane from San Leandro to Fremont.
Mowry Ave: 6 ramps (down from 7), finished 1996, $37 million.
Central Ave. overpass: Widened to four lanes, 1995.
Thornton Ave: 6 ramps (down from 7), complete, $18 million.
Decoto Rd./Hwy.84: Construction to widen I-880 between Decoto Road and Alvarado/Fremont Blvd. began in October 1996.
Alvarado and Fremont Blvd: take out the freaky ramps, mid-1998, $19 million.
Alvarado Niles Rd: unknown, mid-1998, $15 million.
Hwy. 92: add two flyover ramps, finish in 2006.
98th Ave: unknown, late 1998, $36 million.
Hegenberger Rd: unknown, early 1998, $28 million.
Now Interstate 880 has six identical six-ramp interchanges in a row, from Fremont Blvd in the south to Decoto Rd in the north.
What about Coleman Road?
With all the above construction, it seems the only bad interchanges left are the 1960 close-your-eyes-oh-sh*t Coleman Road interchange (20 mph signs on the ramps, for good reason) and the ugly, underpowered desultory strips of asphalt at Brokaw Road. Work on the Coleman interchange was to start in late 2003 [23

].
What about the Brokaw Road squeeze?
The bane of all 880 drivers in the South Bay was the last remaining bottleneck, an infuriating narrowing to two lanes in each direction between US 101 and Montague Expressway, including an interchange at Brokaw Road. Fortunately, this was recently widened to six lanes, and the Brokaw Road overpass was replaced with an eight-lane span, in anticipation of future widening. Work began June 2001, and the new lanes were completely open on Nov. 11, 2003. [25

]
Unfortunately, the project did not include a revision of the outdated Brokaw Road interchange: the four crooked, outdated ramps will remain as is, with none added. A small improvement: O'Toole Road is now one-way southbound between the offramp and Brokaw Road. [16

]
Don't overlook Oaktown
A few crooked interchanges remain near downtown Oakland, notably the Embarcadero/5th Avenue area. Sharp turns, railroad crossings at grade and short merge distances (aka "swerve-ons") add to the fun there. [18

]
More I-880 info:
I-880 (decommissioned)
California
(link)
I-880 was originally assigned to what is now the I-80 bypass of Sacramento. The I-880 page had previously intimated that the number was moved to the Bay Area to help out in a severe x80 number shortage; however, that was incorrect. The results of Joe Rouse's research follow.
Plans for Sacramento's I-880 date back to the 1950s. A "Sacramento Belt Route" was approved as an interstate highway in July, 1958. [14

] The plan would bypass the existing I-80 (US 40) with a new freeway starting in the median of I-880 from the 80/880 junction [now 80/BR 80] in northeast Sacramento in a dual freeway design. It would then separate onto an alignment parallel to the Southern Pacific Railroad mainline all the way to where it would rejoin the old I-80 alignment just south of the American River. From here south into downtown another dual freeway design would be used. The bypass was needed because the existing I-80 alignment didn't meet Interstate standards. [This I-80 bypass was not to be I-880, but it still figures into the story. Stay with us :)]
By 1969, I-880 construction was under way; it was completed in 1972. The portion of the new 80 alignment within the 880 median was completed but not opened to traffic, ending at a long bridge going nowhere just past where it leaves 880. Numerous problems hindered completion of the new alignment.
In 1979, the Sacramento City Council, voted to delete the new I-80 alignment and use the funding and right-of-way for a rail transit system. No other city had done this before. In 1980, the new I-80 alignment was withdrawn from the Interstate system. To keep I-80's route continuous, FHWA and AASHTO redesignated I-880 as I-80.
The portion of existing I-80 from where the new alignment would have come in south of the American River to Highway 99 was withdrawn from the Interstate system and classified as FAP Route 51. The portion of I-80 from Highway 99 west to the 80/880 junction in West Sacramento was retained in the Interstate system as I-305 (FAI 305). No signage changes took place, however, because 80 and 880 remained in their original alignments in the state highway system. Though I-305 was never signed as such, it still retains its FAI designation.
In 1981, State Senate Bill 191 made several changes in the highway system to reflect the FHWA actions, and new signs went up. I-880 was deleted from the state highway system, and I-80 was rerouted over it. The FAP 51 segment of the old 80 alignment was renumbered as state route 51, and the FAI 305 segment was renumbered as an extension of US-50. All of the old 80 alignment became Business 80 per AASHTO approval. [12

]
Route Log and Finder List - Interstate Highways, FHWA, Oct. 31, 2002.
San Jose Mercury News, "A Winner in Defense Funds, a Loser on Freeways," May 28, 1986, p. 13A.
San Jose Mercury News, "Pricey Cypress Freeway to Open," July 12, 1997, p. 1A.
San Jose Mercury News, "High Cost of Being Federal as I-880, old "17" Held to Expensive Standards," July 29, 1986, p. 1A.
Greater Willow Glen Resident, "Route 5 Freeway to open April 30," April 23, 1959. (with map)
San Francisco Chronicle, April 30, 1959.
City of San Jose, "Streets, Highways, and Related Structures," July 3, 1946.
Kozel, Scott
Rouse, Joe
"Eastshore Freeway: Opening of Project to San Lorenzo Cause for Celebration," California Highways and Public Works, May-June 1952.
"History of California's Interstate Routes." California Department of Transportation, November 1984.
"Interstate 880 Widening Project: from First Street to Montague Expressway in Santa Clara County, California." Initial Study/Environmental Assessment, CalTrans, US DOT, and FHWA; Dec. 2000.
Galt, John David. "Re: exit numbers...some states messed up." Post to misc.transport.road, Aug. 26, 2000.
Craven, Bill. "Hellish I-880 interchanges." Personal email, July 21, 2001.
"Key interchange underway." Milpitas Post, Feb. 28, 2002.
"I-880: No. 1 in nastiness: Freeway has most aggressive drivers, AAA survey finds." The San Francisco Chronicle, Aug. 6, 2002
Richards, Gary. "Mr. Roadshow." Weekly column, San Jose Mercury News, Aug. 2, 2002.
"Unclogging the Nimitz: Ramps opening today may make commute a bit easier." San Jose Mercury News, Sept. 21, 2002.
"Two key highway projects saved." San Jose Mercury News, April 5, 2003.
Richards, Gary. "Roads, ramps to open soon across region." Weekly column, San Jose Mercury News, April 28, 2003.
"I-880 bottleneck unplugged." San Jose Mercury News, Nov. 13, 2003.