I-680
California
(link)
70.52 miles [1

]; from I-80 near Fairfield, south through the Diablo Valley, and ending at US 101/I-280 in San Jose. The Pleasanton-San Jose commute is now the South Bay's most congested, because of increased residential development in the Pleasanton Area leading to jobs in Silicon Valley.
By the way, Eminem says this is the real 680; all the other 680's are just imitating.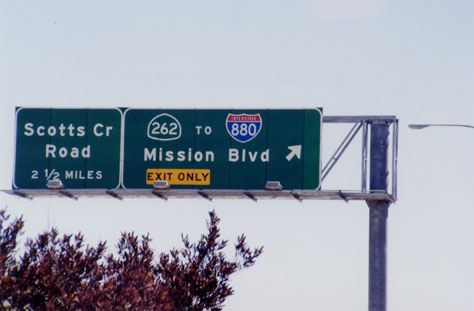 CA 262 is the short section of Mission Boulevard linking I-680 and I-880 in Fremont. This sign and another one like it, both erected on I-680 southbound in 2001, are the only evidence of the previously secret CA 262 designation. "Scotts Creek", a typo for Scott Creek Road, was corrected soon after this photo was taken. Photo by Kurumi.
System Designation and Numbering History
The FHWA approved an interstate highway from San Jose to Vallejo via Dublin, Walnut Creek and Benicia on Sept. 15, 1955. North of the Benecia Bridge was where the original Vallejo alignment diverged from today's Fairfield alignment. No number was specified at the time.
California's first proposed number for this highway was I-5, in August 1957. (Today's interstate 5 would have been called I-11.) The state's first group of submissions included no 3-digit numbers, instead using number like I-13 for I-605 and I-72 for I-580. [11

]
In April 1958, California prepared a revised numbering proposal, including 3-digit numbers; but these were all in the low 100s, and not associated with parent interstates. In that scheme, I-680 was to be called I-113. This plan was rejected by AASHO. [11

]
On Nov. 10, 1958, AASHO approved a California plan that included the original I-680.
In July 1973, CA 21 between Benicia and Fairfield was added to the system as a non-chargeable interstate, to provide continuity in signing a route north toward Sacramento. This addition became part of I-680, and the remaining freeway to Vallejo was renumbered I-780. [4

] The signing changed around 1976.
Known Opening Dates
Benicia-Martinez bridge: Sept. 16, 1962
Walnut Creek to Danville: 1964 [15]
Danville to Dublin: 1966 [15]
CA 238 to Mission Blvd (CA 262): Oct. 20, 1970 southbound, Jan. 28, 1971 northbound
CA 262 to Calaveras Blvd (CA 237): March 14, 1971
CA 237 to Capitol Ave: Sept. 5, 1974
Capitol Ave to US 101/I-280: Dec. 18, 1974
Complete interchange with US 101/I-280: 1982
North End
The Benicia-Martinez bridge, just south of I-780, opened on September 15, 1962, replacing a ferry. Until 1973 (signing changed around 1976), the north end of I-680 went along present-day I-780 to I-80 in Vallejo, and CA 21 continued as a freeway to Fairfield.
The interchange with CA 24 in Walnut Creek was the largest interchange construction project in Northern California; begun in 1994 or 1995, it was completed in 1999. [3

] The prominent feature for southbound 680 travelers was a temporary 2-lane flyover rising steeply above the rest of the interchange (and 90 feet above ground); this roller-coaster ramp was closed in March 1999 and demolished.
Fixing the 580/680 interchange
The interchange at I-580 in Dublin was originally a cloverleaf, dating back to the days when I-580 was US 50 and I-680 was CA 21. In 1986, Alameda county passed a half-cent tax increase to fund several highway projects, including a new flyover from 680 south to 580 east. At the time, this was the most congested traffic movement. [7

]
In Feb. 2002, the project was completed, and it is quite popular. [6

] However, now most traffic comes from the Central Valley to the South Bay, stressing the 580 west to 680 south loop; it seems a natural idea to provide a flyover there as well. Unfortunately, there are no such plans today. [7

]
South End
A 1958 Santa Clara County plan shows the Capitol Expressway as a freeway in the I-680 corridor through Milpitas and North Valley San Jose. Route 680 first appeared as "Temp 680," along the Mission Boulevard connector (formerly CA 21, now unsigned CA 262) to CA 17 (the Nimitz Freeway, now I-880), ending at US 101 in San Jose. In 1964, the Nimitz Freeway was renumbered to 680 only, and 17 was moved to Oakland Road; but vocal public outcry resulted in restoration of the 17 numbering on the Nimitz. [5

] Main Street in Milpitas also served as Temp 680 for a while; I don't have exact dates yet.
In 1968, the 680 freeway's southernmost point was the CA 238 interchange. On October 20, 1970, southbound lanes from there to Mission Blvd. in Warm Springs opened; the northbound lanes opened on January 28, 1971. On March 14 of that year, both sides opened to CA 237; the first day's traffic, however, was pedestrians and bicycles. On September 5, 1974, 680 was extended to Capitol Avenue, and on Dec. 18, 1974, the entire freeway was open.
Interchange to Nowhere
The huge interchange with I-280 and US 101, which flies over a cloverleaf on 101 for a local street, was started in 1974, but construction was halted for lack of funds, leaving three disconnected sections of ramp 70 and 90 feet in the air. Traffic used an underpowered "interim" interchange, taking small ramps underneath the towering segments of flyover.
On January 4, 1976, an unidentified joker used a crane to deposit a 1960 car on the highest ramp. Joe Colla, San Jose City Councilman at the time, made the "Wonder Car" part of his crusade to get unfinished freeways in California finished. In early 1980, the state committed $39 million to finish the interchange, and in 1982, it opened.
Widening in Fremont and Milpitas
A High-Occupancy Vehicle (HOV) lane was added southbound on I-680 for 14 miles, from CA 84 over the Sunol Grade to CA 237 in Milpitas. On Nov. 26, 2002, the lane was opened on an 8-mile stretch from Washington Blvd. to CA 237. [8

] The remainder -- CA 84 to Washington Blvd. -- opened on Dec. 6, 2002. [9

]
One consequence of this work was the removal of stub ramps for the planned Route 238 freeway (aka Foothill Freeway), which would have headed north from the bend in I-680 north of Durham Road to I-580/I-238 in Hayward. These ramps were built in 1971 and removed in May 2002.
"HOT" lane proposed on Sunol Grade
In early 2003, a study commissioned by the Alameda County Congestion Management Agency showed that a High-Occupancy/Toll lane ("HOT lane") would be feasible for I-680 southbound on the Sunol Grade. Solo drivers with a transponder could use the lane along with multi-passenger vehicles. If outfitted, the lane would be the Bay Area's first. [10

]
New span for the Benicia - Martinez Bridge
Under construction is a new span for the Benicia - Martinez Bridge on I-680, a six-lane structure that opened in 1962. The new span, built to the east, will carry 5 lanes of northbound traffic. A new 17-lane toll plaza will be built south of the bridge (the original toll plaza is to the north). The interchanges with I-780 and Marina Vista will be rebuilt. The project should be complete in Feb. 2004, and the $585 million cost is financed from toll revenues. [14

]
See Caltrans' project page for more information.
Names
Between I-80 and I-780, I-680 is the Luther E. Gibson Freeway, named after a state legislator (not the 15th century reformer or the acoustic guitar maker). Named by Senate Concurrent Resolution 21, Chapt. 160 in 1967. [Caltrans]
The Sinclair Freeway is Interstates 280 and 680 from Route 17 to the Santa Clara/Alameda County line. Joseph P. Sinclair was the District Engineer for the District 4 Division of Highways (now Caltrans) from 1952 to 1964. Named by Assembly Concurrent Resolution 104, Chapt. 168 in 1967. This is reportedly the first highway in California named after a civil engineer. [16

]
See also:
16.43 miles [1

]; from I-76 to I-80 near Youngstown. I am now happy to present more than one line of information about this road.
More information on Ohio's I-680
In 1957, a highway to be called Interstate 78 was approved for Ohio. I-78 would have started in Norwalk (north central Ohio), proceeded east to Akron, and then roughly followed today's I-76 to I-80 at Youngstown. [11

]
On Feb. 27, 1958 Ohio published a map showing revisions to its interstate system. I-80 took over the I-78 route. The revised I-78 was now to connect downtown Cleveland to I-80 (now I-76) southeast of Youngstown, using part of today's I-480, a new route along OH 14 from Streetsboro to Edinburgh, an overlap with I-80 (now I-76), and all of I-680. [11

]
On Aug. 8, 1958, I-78 was apparently gone. Ohio was proposing 3-digit numbers for two loops on I-80: I-280 at Akron (for I-80 still had that southern alignment) and I-480 at Youngstown. The Toledo loop was to be part of I-77 (not making this up). [11

]
Ohio requested that I-77 be truncated at Cleveland, that Michigan's I-77 be called I-75E, and that the Toledo loop become I-280. Thus the Akron loop would become I-480, and the Youngstown Loop I-680. The Toledo and Youngstown loops did indeed get those numbers. I-480 was not built in Akron because I-80 was moved north. [11

]
See also:
I-680
Iowa; Nebraska
(link)
42.86 miles [1

]; I-680 serves two purposes. In Nebraska, it's a bypass for Omaha; in Iowa, it's a shortcut between I-80 and I-29 for, say, Sioux City to Des Moines traffic. It overlaps I-29 for 9 miles.
In 1958, the Iowa portion of this highway, at least between I-80 and I-29, was to be called I-680. However, on Nov. 10, 1958, AASHO directed Iowa to renumber it to I-80N. [11

]
In 1965, the Omaha bypass was called I-280, but the portion in Iowa from the Missouri River would have conflicted with I-280 in the Quad Cities. At some point, I-280 was renumbered to I-680. In Iowa, I-80N was renumbered back to I-680 in 1973. [13

]
The I-29 to I-80 cutoff in Iowa was open by 1971. I-680 in Nebraska was completed in 1975. [12

] The last section of I-680 opened on April 21, 1979. [17

]
See also:
I-680 (numbered as another interstate)
Pennsylvania
(link)
Old number (before 1964) for I-676 through Philadelphia, when I-76 was known as I-80S.
Route Log and Finder List - Interstate Highways, FHWA, Oct. 31, 2002.
Le Cates, Jeffrey. "I-680 in California Update." Personal email, June 18, 1999.
"History of California's Interstate Routes." California Department of Transportation, November 1984.
Galt, John David. "Re: exit numbers...some states messed up." Post to misc.transport.road, Aug. 26, 2000.
"ACTA celebrates giant I-580/680 success." Press release, Alameda County Transportation Authority (ACTA), Feb. 13, 2002.
Richards, Gary. "Mr. Roadshow." Weekly column, San Jose Mercury News, May 13, 2002.
"Happy day for drivers on I-680 as lane opens." San Jose Mercury News, Nov. 26, 2002.
"Sunol Grade carpool lane finished quickly on I-680." San Francisco Chronicle, Dec. 7, 2002.
"Study backs Sunol Grade 'hot' lane." Contra Costa Times, April 11, 2003.
Summers, Stephen. "Interstate system route numbering." http://www.nwindianahwys.homestead.com/INTER_MAIN.HTML (23 April 2003)
Koster, George E. A History of Highway Development in Nebraska. Lincoln, Neb: Nebraska Department of Roads, 1997.
Hancock, Jason. "I-280, I-480, and I-680." http://iowahighways.home.mchsi.com/highways/otherint.html (10 June 2003)
California Department of Transportation (Caltrans). "Major Projects on Route 680." http://www.dot.ca.gov/dist4/route680.htm. (30 July 2003)
"History Of The San Ramon Valley." The Valley Citizen [San Ramon, Calif.], June 2002.
Sinclair, John Quarterman. "Joseph Pierce Sinclair (1910-1964)." http://sinclair2.quarterman.org/who/jpsinclair.html (16 Nov. 2003)
Iowa DOT. "National System of Defense and Interstate Highways / 40 Years / Featuring Iowa's Interstate System." Published April 29, 1996.