I-238
California
(link)
2.23 miles [1

]; east from I-880 in San Leandro to I-580 in Castro Valley. The number is continued as state route 238 south of I-580.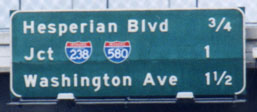 Yes, it really exists: approaching I-238 interchange on I-880 northbound. (Feb. 2000 Photo by Kurumi) (larger photo)
The freeway dates back to the 1950s as part of US 50, which connected the East Bay to Sacramento via the Altamont Pass, and San Francisco via Oakland and the Bay Bridge. The US 50 freeway opened at or near the time the CA 17 freeway did, in 1952 and 1953. [3

].
So how did it get that number?
All three-digit interstates are supposed to connect to a parent two-digit interstate, or another 3di of the same family that does so (see numbering rules). How, then, did I-238 come about when there is no Interstate 38 anywhere?
Casey Cooper explains some of the reasoning behind this decision. But in a nutshell, CalTrans wanted an interstate designation for a portion of CA 238 to close a small gap in the interstate system. However, all numbers ending in "80" were taken.
In May 1983, 45 miles of CA 17 from San Jose to Oakland and 2 miles of CA 238 in Hayward were added to California's interstate system as non-chargeable miles: not eligible for federal interstate completion funds. On July 7, 1983, AASHTO approved numbers for these highways: I-880 for CA 17 and I-238 for CA 238. [4

]
Longer 238: more legitimate or more offensive?
Late 1950s plans called for a Llewelling Blvd. Freeway, a westward extension of the what is now I-238 to a proposed CA 61 freeway. [2

] (Route 61 would have paralleled I-880 and I-80 to the west between Richmond and CA 84 in Newark.) Later plans proposed extending 238 across the bay to meet US 101 at the I-380 interchange north of SFO.
There was also the intent to continue the 238 freeway south to I-680 in Fremont, where stub ramps and about 1,000 feet of the Mission Freeway were built in 1971. (This was demolished in May 2002 as part of an I-680 widening project.)
In the 1950s and 1960s, Fremont officials had planned their future city around the Mission Freeway: hotels, regional mall, City Hall, and BART. But local opposition helped kill the freeway, and much of Fremont's development instead gathered around Interstate 880. [5

]
Alameda County still plans a four-lane eastern bypass of Hayward, signed as CA 238; but it will not extend into Fremont, much less to I-680.
Interchanges: how to get to I-238
Originally, there was no direct connection from 238 north (50 west) to 880 south (17 south). On November 19, 1991, this was provided with a new $18 million flyover connection (pictured below). A year earlier, a section of scaffolding for the ramp had collapsed, dumping four workers 50 feet to the ground, seriously injuring two. Bad karma?


The newer 238 to 880 SB ramp overcrosses the 238 entrance from 880 northbound. (Feb. 2000 Photo by Kurumi)
The large interchange with I-580 opened in August 1989.
Yes, road scholars hate I-238; It breaks the rules. Perhaps I've become desensitized to road-numbering abuse; I lived through the whole I-84 / I-86 thing. I-238 is more amusing than irritating to me, mainly for the reaction it provokes.
See also:
Reasoned, BBCish commentary (Casey Cooper)
Hayward CA 238 bypass (Alameda County Transportation Authority). Hey, I-238 was once part of CA 238, and CA 238 was once planned to connect to I-680. Anything can happen!
Portuguese Sailors page, where you can find an MP3 of their song complaining about I-238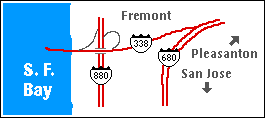 I-338 (proposed)
California
(link)
My proposal for a spur route from I-680 in Fremont, heading west to a dropoff 80 feet above the water, 1 mile off Fremont's bay shore. No eastbound lanes are required. The purpose of this road is to gradually thin out the horrendous traffic caused by commuters coming from the Pleasanton area to the South Bay, by convincing them to drive I-338. The dot-com bust has rendered this plan obsolete.
The guide signs on 680 would have read "I-338 Free Shortcut to Silicon Valley Next Right." The "stick" to this carrot: a temporary $5.00 toll on 680 south.
Route Log and Finder List - Interstate Highways, FHWA, Oct. 31, 2002.
Alameda County Transportation Improvement Plan, 1959
"Eastshore Freeway: Opening of Project to San Lorenzo Cause for Celebration," California Highways and Public Works, May-June 1952.
"History of California's Interstate Routes." California Department of Transportation, November 1984.
"Ghost Freeway symbolizes Fremont's loss." San Jose Mercury News, May 16, 2002.