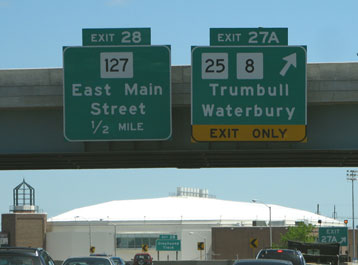 Route 25 gets top billing on I-95 approaching the 25/8 freeway. Photo taken in 2006 by Kurumi.
Route 25 begins overlapped with the Route 8 freeway, gradually widening to 10 lanes where routes 25 and 8 diverge. It forks northwest on its own six-lane alignment that ends at Route 111.
At I-84, exit 11, is a three-level interchange and short freeway stub that was intended for Route 25's northern terminus. However, the rest of the freeway was cancelled, and Route 25 continues north from Route 111 as a two-lane surface road.
In the past, Route 25 extended as far as US 44 in Canton; that stretch of road is now part of US 202.