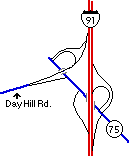 Upgraded interchange at I-91 includes a direct connector over Route 75 to Day Hill Road.
Most of the attention Route 75 gets is along its four-lane commercialized strip adjacent to Bradley International Airport. Drive further north, however, and hotels give way to fields and barns.
During World War II, the segment of Route 75 next to Bradley Field (for military use at the time) was closed to thru traffic for about 3 years.
A 4.3-mile segment of Route 75 in Suffield is a state scenic road. This designation extends from the Stony Bridge Brook to the Massachusetts state line.