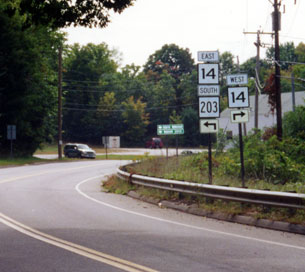 Route 203 approaching Route 14 in Windham. Photo taken Sept. 2002 by Kurumi.
Route 14 is a "back road" east-west route into Rhode Island. US 6, Route 101, and US 44 carry more traffic. There is a short four-lane boulevard portion near I-395 in Plainfield.
On January 26, 1999, part of Route 14 was designated a state scenic road: the 4.4-mile segment from the Windham Center School to a point 0.3 mile east of Scotland center. This designation means that any further alteration or improvement on this section of Routes 14 will maintain the character of the road.
A portion of Route 203 was also designated that day.