Introduction
With its pastoral setting and distinctive bridges, Fairfield County's Merritt Parkway is a famous example – within and outside Connecticut – of 1930s roadmaking. Nearly forgotten, however, are the five other parkways the County envisioned at the time. These highways on new alignment were intended to solve traffic problems that still plague southwestern Connecticut today.
The one source I've found is a 1933 plan by the Fairfield County Planning Association, where a few pages were scanned by the Library of Congress. I'll show the proposals and discuss how they map to today's road network.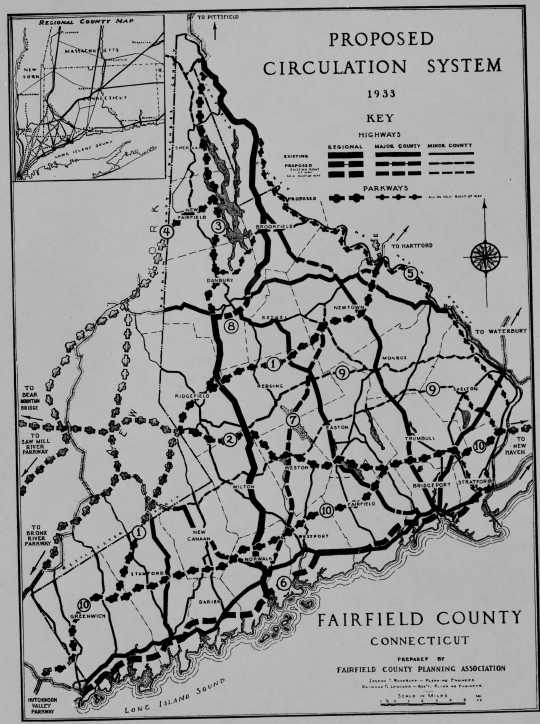 Fairfield County's ambitious plan called for new parkways criss-crossing the County and connecting with proposed New York routes.
Since (as of this writing) there is little to no other information about these roads online, I've transcribed the scanned page accompanying the above map:
The county circulation problem is two-fold:
To provide for the increasing movement of people and goods between New York and New England with the least interference with desirable developments.
To protect and beautify existing county roads and provide for additional connections between them so as to assure adequate circulation within the county.
The best solution of the former problem is to adopt plans and acquire the land for cross-county circulation by parkway and freeway at an early date. The expense of such action would not be great and it would be justified by its stabilizing influence on real estate values. With through traffic adequately provided for, detailed plans on residential development could be made.
A system of through ways also provides the greatest protection for the minor county routes which can be developed by individual towns in a manner to preserve their present charm and provide adequate pavement for the comparatively small volume of inter-town traffic. As a result of the circulation study now being considered by the Technical Committee, the following proposals are made:
1. A parkway to central New England crossing the county from the Hutchison River Parkway at Greenwich to Sandy Hook, to protect future developments from the uncertainty of an unplanned crossing and to plan that crossing so that it will not be a detriment to desirable future residential developments.
2. A parkway connecting the Merritt Parkway at Fairfield with the Northern Lakes Parkway at Ridgefield providing a continuous route across Fairfield and Westchester Counties to Bear Mountain Bridge.
3. A parkway branching from the New England parkway above Ridgefield, by-passing Danbury on the west, keeping to the west of Candlewood Lake and connecting with the Ethan Allen Highway to Vermont at Gaylordsville.
4. A parkway connecting the Candlewood Lake area with extensions of the Sawmill and Bronx River parkways at Brewster, N. Y.
5. A scenic parkway along the Housatonic River.
6. A coastal express highway paralleling the railroad from the Pelham-Portchester [sic] parkway at the New York State line to the New Haven County border at Stratford.
7. The improvement of the Newtown turnpike without excessive widening, so as to preserve its great natural beauty and protect the interests of adjoining property. This will necessitate a relocation of right-of-way through the Saugatuck River Valley and Valley Forge Reservoir sections.
8. A system of parkway and highway approaches to Danbury which will relieve traffic congestion and make Danbury more accessible for retail trade.
9. The improvement and connection of existing town roads between (1) the towns of Shelton, Trumbull, Easton, Wilton, and New Canaan, and (2) the towns of Shelton, Monroe, Upper Stepney, Redding, Branchville, and Ridgefield, to provide needed cross-county circulation.
10. The Merritt Parkway paralleling the Boston Post Road and running cross-county from the Hutchison River Parkway at Greenwich to the Housatonic River at Stratford. This is a project of the State Highway Commission which has already acquired a portion of the right-of-way. The Fairfield County Planning Association has been active in stressing the importance of its construction as a parkway, has assisted in the drafting of legislation, and has held several meetings relative to its immediate construction as a self-liquidating project.
Discussion
Parkway #1 would have been popular, taking some traffic that I-84 and US 7 carry today.
Parkway #2 is a few miles south of the Route 110 freeway plan discussed in the 1960s.
Parkway #3 might have been signed Route 37, or more intriguingly, US 7A.
As for Parkway #4: neither New York parkway reached as far north as Brewster, but I-684 did. New Fairfield routes SR 839 and SR 850 do see significant traffic to Route 22 in New York.
Parkway #5, hugging the lower bank of the Housatonic River, may be the most difficult to conceive of now. It mirrors the old Ousatonic River Turnpike (and 1920s state highway) on the upper bank, where many traces are gone.
Highway #6 became I-95.
Highway #7 is close to the old Route 57, and quite scenic.
The map doesn't show enough detail for Highway #8—maybe it is just the southern bypass of Danbury.
Highway #9 outlines the mid-county east-west routes (including a surface Route 110) that still do not exist.
Parkway #10 has a dozen web pages, including this one.
Other parkway plans
The New York-based Regional Plan Association in 1932 proposed a Mohansic-Norwalk Parkway, leading from Norwalk to the Bear Mountain Bridge. It would start at the Merritt Parkway, leading northwesterly along the Silvermine River Valley into New York State.
Sources
"County survey is started by planning group." Norwalk [Conn.] Hour, May 4, 1932.
"Norwalkers hear praise of regional plans; big developments ahead." Norwalk [Conn.] Hour, May 4, 1932.
"New boulevard suggested here." Norwalk [Conn.] Hour, July 21, 1932. More detail about the Mohansic-Norwalk Parkway.
Fairfield County Planning Association. "Proposed circulation system." June 1933.
"Faster roads to New England." New York Times, Jan. 10, 1937.
Links