Route 53 could be considered a scenic alternative to US 7, which also visits Norwalk and Danbury. A 2.03-mile segment, from the Redding/Weston Town line north to Route 107 in Redding, was made a scenic road in 1992. This portion, alongside the Saugatuck Reservoir, is part of a 19th-century turnpike.
Jon Persky writes:
"CT 53 roughly follows the path of the old Newtown Turnpike, famed for a spectacular pillage-filled march by British troops in April 1777. CT 53 and Newtown Turnpike are still one and the same from the northern split with CT 57 at Weston Road, to Redding near CT 107. The road still exists (although as Newtown Ave. in Norwalk) from CT 53 just north of its terminus at US 1, all the way to CT 58 near the Redding/Bethel line."
Despite all this, the Merritt Parkway (Route 15) crosses Route 53 without an interchange.
"So you take Route 53 eastbound..."
Since US 1 is north-south nationwide but travels mainly east-west in Connecticut, residents are used to variations in directional signs for that road.
In Norwalk, however, a sign on US 1 northbound tells drivers to turn left for Route 53 east, as if the road to Danbury, about as straight north as it gets, was sucked into US 1's compass-spinning vortex. What might have happened: a contractor mistakenly switched the "EAST" and "NORTH" meant for US 1 and Route 53 respectively. Anyway, see for yourself:
Route 53 East sign goof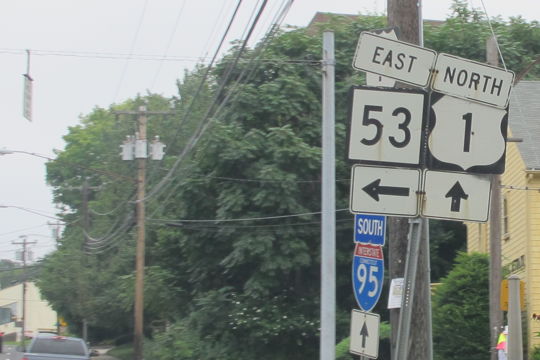 US 1 going east-west is understandable in Fairfield County. Route 53 does nothing of the sort, despite the sign assembly above. Photo taken by Kurumi in August 2012.