Introduction
This page covers a lot of information on an esoteric topic: exit numbering in Connecticut. If this interests you, welcome to the club. Despite its small size, Connecticut has over 400 numbered exits on 19 freeways; there's plenty here to examine and boggle at.
Like many other aspects of the state's highway system, exit numbering has been called bizarre, braindead, amusing, and other less polite names. However, there were solid reasons for most of the decisions made. As standards and plans change over the years, the highway department is often left with the choice of large-scale, conspicuous rework, or leaving large-scale inconsistencies in place.
Here, we'll cover several topics: Sequential vs. milepost-based numbering; history of exit numbers; which highways are exit-numbered; and oddities in the numbering system.
Acknowledgements
Some of the details below are best verified by driving: not an easy task for me, since I live in California. Because of this, I very much appreciate the efforts of Edward Hennessy, Matt Putzel, Dan "SPUI" Moraseski, Neil Kelly, and Peter Deschenes, who emailed me with additions and corrections.
Sequential vs. Milepost-based Exit Numbering
Most U. S. states use milepost-based exit numbering; a few, including Connecticut, use sequential numbering. (In 2014, Connecticut announced it would change to milepost-based; but changes will be done over several years, as signs are replaced.)
Each system would treat a notional exit for Main Street in Whoville differently. In milepost-based states, Main Street might be exit 205, if it were 205 miles from mile marker zero on the highway. In sequential numbering, it might be Exit 23, if it were the 23rd exit from the start of the highway or the state line.
Each system has its advocates, or apologists, depending on whose side you're on. The trend has been toward milepost-based, with the few holdouts in the northeast. Milepost-based numbering allows for easier addition or removal of interchanges without losing consistency, and quick arithmetic using the current milepost gives the mileage to the desired exit.
Connecticut has stuck with sequential numbering for decades, though it almost changed this on I-91 in 1974. In 2013, the state announced plans to change exit numbers on I-395 and Route 2A in starting in 2015; and in December 2014, the state announced that, as signs were replaced over the next 20 years, exit numbers on all freeways would be changed over to milepost-based.
This is a big change, and Hartford Courant commenters are foaming at the mouth about government, the DOT, and highways in general. There will be some disruption as printed directions to businesses and homes go out of date. The state will, for a while, keep both old and new numbers up, as it did when renumbering exits on the former I-86. Although the DOT plans to change numbers only as signs are up for replacement, there will have to be some coordination: for example, changing Exit 70 on I-84 (Route 32) to exit 85 while leaving exits 69 and 71 unchanged would lead to confusion.
General Numbering
If an interchange has more than one exit ramp from the same freeway direction, there are a few ways to handle this – and Connecticut practice has changed over the years:
Merritt Parkway era: each ramp had its own number. For example, US 7 in Norwalk, a cloverleaf interchange, was exit 39 and 40.
1950s through c. 1990s: directional letter suffixes (N, E, S, W), such as exits 22N and 22S on I-91 for Route 9 north and south
Interchanges with other freeways usually are numbered, except for some (but not all) cases where the current freeway ends at another. For example, Route 9 numbers its northern terminal exits at I-84, but not at the other end (I-95).
Of course there are exceptions; see highway comments and oddities.
History
The first numbered exits in the state are found on the Merritt Parkway and Wilbur Cross Parkway. For the first several years of the Merritt's operation, interchanges were identified only by the name of the crossing street or destination. In apparent response to a number of accidents caused by motorists trying to determine which exit was theirs, the state highway commission ordered the numbering of exits effective May 3, 1947.
Exit numbers were consecutive, starting with 27 (King Street) at the New York state line. Exit 27 was chosen to continue the numbering on New York's Hutchinson River Parkway, which becomes the Merritt Parkway in Connecticut. Since then, the New York exits have been renumbered, and now go up to 30. Since the King Street interchange straddles the state line, it's exit 30 in New York (northbound), but exit 27 in Connecticut... at the actual ramps, southbound, exit 27N (in Connecticut) and 27S (in New York).
Exit numbers had no letter suffixes (A, B, E, W, etc.) at the time; the handful of cloverleaf interchanges, such as at US 7 for Norwalk, used two consecutive numbers (such as 39 and 40) for the two offramps.
Merritt Parkway exit numbers continued over the Wilbur Cross Parkway as well, ending temporarily at Exit 67 (E. Main Street, formerly US 6A) in Meriden. In 1948, Route 15 was assigned to those roads, as well as the Berlin Turnpike, Charter Oak Bridge, and Wilbur Cross Highway toward Union and Massachusetts. With the continuous Route 15 designation, a continuous exit numbering system was devised. A gap was left for a possible Parkway extension north of Meriden (which never occurred), and exit numbers started up again with Exit 85 (Route 99) in Wethersfield. The highest exit number ever in Connecticut, Exit 106, was for the Route 171 interchange on Route 15 in Union.
When I-86 was commissioned, over Route 15 from Manchester to Union (formerly part of I-84), exit numbers were left unchanged, and the nation's shortest two-digit interstate highway offered access at exits 92 through 106. When the proposal to extend I-84 to Providence was abandoned in 1983, I-84 was reassigned to that route, and the I-86 numbering removed. Along with that, exits on the route were renumbered to be consecutive with existing number on I-84. The Route 171 interchange just ahead of the Massachusetts state line, once Exit 106, is now Exit 74.
In 1974, the DOT announced a plan to renumber exits on I-91 to milepost-based, to follow FHWA standards. However, businesses along I-91 were upset about the disruption this would cause, and opposed the move. The DOT withdrew the plan on June 27, 1974.
In 2013, the DOT announced plans to renumber exits on I-395 and Route 2A to milepost-based when signs are replaced in 2014.
Freeways without Exit Numbers
Some freeways have exits without numbers. Most of them are short, such as Route 184 and Route 17; the longest is Route 20, with five numberless exits.
The complete list of freeways with numberless exits: Route 3, Route 17 (both parts), Route 20, Route 78 (in Connecticut), Route 184, Route 187, Route 190, Route 349, SR 598 (Conland-Whitehead Highway), and US 6 in Willimantic.
Freeways with Exit Numbers
Twenty-one freeways do have exit numbers. Comments on each one follow.
From exit 1 (Saw Mill Rd, Danbury), to exit 74 (Route 171, Union). Exit 2A and 2B westbound. Exit 12 (west bank of Housatonic River) was removed during reconstruction in the late 1970s. The Route 8 interchange has consecutive exit numbers (19 and 20) instead of 19N and 19S. Exit 25A (Austin St, eastbound) appears to be a later addition, but state plans to modify those to the west might result in a renumbering to exit 25.
Westbound in Southington, the long I-691 ramp (exit 27) diverges before the short Route 322 ramp (exit 28), making the sequence 29, 27, 28, 26. Although plans for I-291 were well known when I-84 was completed in Farmington in 1969, no exit number was reserved for the four-level stack interchange that lay unused there; when Route 9 was connected to it in 1992, the opened interchange, between exits 39 and 40, became exit 39A.
A few exit numbers in the Hartford "canyon" are missing, as the area was reconstructed and several close-knit, overlapping ramps removed. Before, eastbound travelers encountered exits 49 (High St), 50 (Ann St), 51 (Trumbull Street), 52 (Morgan Street), and no number (I-91 south); now, the numbers are 49 (High and Ann), 50 (Trumbull and Main), 51 (I-91 north), and 52 (I-91 south).
In East Hartford, I-84 used Exit 58 for the Roberts Street interchange, then switched over to Route 15 numbering (see above) with exit 91 at Forbes Street. This discontinuity was left alone because I-84 to the east of here was intended to become part of I-86. In 1985, the exits to the east were renumbered starting at exit 59 for I-384; the Forbes Street interchange was removed.
Westbound in Manchester, the huge collector-distributor road system at I-291 and I-384 provides one ramp for "Exit 62 & 60," US 6/44 and Buckland Street. Exit 61, Interstate 291, follows, with Exit 59 coming after.
In the I-86/Route 15 numbering era, exit 103 was missing, between exit 102 (Route 320) and Exit 104 (Route 89). I don't know why this was the case; it doesn't appear that another interchange would have been needed in that lightly populated area.
From exit 1 (Route 34, New Haven) to exit 49 (US 5, Enfield). The terminal interchange with I-95 is not numbered. Not much out of the ordinary happens until the Charter Oak Bridge approach in Hartford. However, exit 2 is only accessible from I-95 southbound (not northbound). Also, no exit number was reserved for the I-291 interchange in Rocky Hill, even though plans were in place before I-91 was completed.
Because of a relocated Airport Road ramp and a removed Charter Oak Bridge ramp, southbound drivers encounter exits 30, 29A, 27, 28, and then 26.
When I-291 opened in Windsor, its interchange with I-91 became Exit 35A. The ConnDOT Windsor town map shows exit 35B southbound for Route 218, and Exit 35A-B for the combined northbound 218/291 exit. With interchange reconfigurations in the I-91 reconstruction near Route 20, southbound travelers now encounter exits 39 and 41 before exit 40. With the reconstruction of the Dexter Coffin Bridge over the Connecticut River circa 1990, exit 43 (Main St, Warehouse Point) was eliminated.
Exit 10 (Route 40, 1972) and Exit 11 (Route 22, 1973) were added after that section of I-91 (North Haven) opened in 1966.
In 1974, the DOT announced a plan to renumber exits on I-91 to milepost-based, to follow FHWA standards. However, businesses along I-91 were upset about the disruption this would cause, and opposed the move. The DOT withdrew the plan on June 27, 1974.
From exit 2 (Byram Rd, Greenwich) to Exit 93 (Route 216, Stonington). Most of I-95 is the former Connecticut Turnpike, whose exits were numbered from 2 in Greenwich to 90 in Killingly. (Exit 1, which sounds like it vanished into the same ether as American TV channel 1, might have been used to represent the entrance toll booths at the New York state line).
Reconstruction east of the Q-Bridge circa 2009 resulted in the elimination of exit 49 in New Haven.
Exit 67 in Old Saybrook is actually two separate partial interchanges, at Elm Street and Route 154. The Elm Street portion was added a year or two after I-95 opened.
Where I-95 diverges from the Turnpike at East Lyme, there's a quick disconnect from Exit 76 to Exit 80. Otherwise exit numbering is conventional.
From exit 1 (Route 218, Windsor) to Exit 5 (Pleasant Valley Rd, South Windsor). Though I-84 provides an exit number for I-291, the short 291 freeway doesn't return the favor. A planned half-diamond interchange at Burnham Street (would have been exit 5) was deleted before construction began.
From exit 1 (Spencer Street, Silver Lane, E. Hartford) to Exit 6 (US 6/44, Bolton, westbound only). Like I-291, I-384 offers no number for its terminal interchange at I-84. Before I-384 was christened in 1984, this freeway, then part of I-84, had no exit numbers.
From exit 76 (the I-95 split) to exit 100 in Thompson. Now owns the highest exit number in the state. Exit numbers continued from the Connecticut Turnpike, which diverges to the east at Killingly. Exit 79A is Route 2A, which opened about a decade after the Turnpike did; and exit 83A (Route 169) was added around 1960.
In May 2013, ConnDOT announced plans to change I-395 to distance-based exit numbers when guide signs are replaced in 2014.
From exits 1 and 2 (I-84) in Cheshire and Southington to Exit 11 (I-91) in Meriden. Even in the Route 66 era, this highway had numbered exits, starting at 4 for what is now Route 322. Exit numbers continue on the short Route 66 freeway east of I-91. It appears numbers were reserved for a proposed Route 10 (or SR 597) freeway near the existing Route 10, and possibly another near Knotter Drive; since neither interchange was built, I-691 provides two numbers, exits 1 and 2, for the ramps to Interstate 84.
US 7, aka "Super 7", has two separate freeway segments, one in Norwalk and the other (including an overlap with I-84 in Danbury and Brookfield. The sequence of exit numbers left room for the proposed completion of the freeway between Norwalk and Danbury. A signing revision circa 2012 added some missing exit numbers and corrected a mistaken number in the Danbury area.
I-95: no number (terminal interchange)
US 1, Norwalk: Exit 1
Route 123, Norwalk: Exit 2
Route 15 (Merritt Parkway): Exit 3
Wooster Heights Road / Sugar Hollow Road, Danbury: originally no number; now exit 7
Park Avenue / Backus Avenue, Danbury: originally no number, with a blank "EXIT __" tab; now exit 8
I-84 west: originally no number; now exit 9
overlap with I-84: uses I-84 exit numbers
I-84 east, Danbury: originally Exit 13 (an error); corrected to exit 10
Federal Road, Danbury: exit 11
US 202, Danbury, exit 12
From exit 1 (Darlin Street, East Hartford) to Exit 29 (New London Turnpike, Norwich).
The oddity here is the set of five unrelated exits in East Hartford numbered 5, 5A, 5B, 5C, and 5D. Exit numbers were posted along this stretch in early 1976. DOT engineer Walter Coughlin told the Hartford Courant that the planned I-86 (former I-491) connector would have displaced enough interchanges on Route 2 that they could have been numbered sequentially without letter suffixes.
I'm not sure that would have worked out. Here are the resulting exit numbers if I-86 (exit 5D) resulted in both Maple Street (exit 5C) and Griswold Street (exit 6) closing; and for good measure, Sutton Avenue (exit 5B) closing as well:
Riverside Drive: exit 5, as before
Main Street (exit 5A): change to exit 6. This interchange would not have been closed.
I-86/491/CT 3: exit 7
CT 17 (exit 7): now exit 8
CT 94 (exit 8): now exit 9, and so on
In other words, there would still be too many exits in the area. In any case, with the several incomplete interchanges, the sequence for westbound travelers is 10, 8, 5D, 5A, 4, and 3 (when do you say "Liftoff?").
Marlborough has a missing exit: 14. Between Route 66 (exit 13) and South Main St (exit 15) is nothing meriting another interchange. I'm guessing Exit 14 could have been reserved for the proposed Route 66 freeway, a "future needs" plan of the 1960s and '70s. Though you'll see several people making this same hypothesis, don't consider it a consensus: I haven't seen an official source confirming or denying this.
In Norwich, the 2000 reconstruction of Route 2 near Fitchville led to a reconfigured interchange with Route 32 and the elimination of Exit 26, which was an at-grade intersection with Yantic Lane.
Exit 1 (Route 32) and 2 (Mohegan Sun Blvd), Montville. Exit 2 was added (and the Route 32 interchange given a number) when Route 2A was widened in 1996 to support the new Mohegan Sun casino.
In May 2013, ConnDOT announced plans to change Route 2A to distance-based exit numbers when guide signs are replaced in 2014. As Route 2A officially starts at the Route 2/I-395 interchange, its exits 1 and 2 will change to exits 5 and 6.
The terminal interchange with I-395 is not numbered (technically, Route 2A does not end there, but the signing ends), and will not be given a milepost-based number.
From exit 1 (Prospect Street, Bridgeport) to exit 46 in Torrington. The terminal interchanges at I-95 and US 44 are not numbered. Exits 1 through 6 are shared with Route 25. Gaps were left in the numbering for the unfinished parts in Shelton and Beacon Falls; these parts were constructed and "filled" in with no anomalies, except a skipped number (10 northbound, 9 southbound) in Trumbull. Hats off to the DOT!
From exit 1 (Ferry Point, Old Saybrook) to exit 12 (hospital area, Middletown) and exit 19 (route 99, Cromwell) to exit 30 (Route 71, Newington). The terminal interchange at I-84 has two numbers, Exit 31 (I-84 east) and Exit 32 (I-84 west), which were added some time after Route 9 opened there in 1992.
Exit numbers were applied to Route 9 when the segment from Old Saybrook to Middletown was completed in 1968.
A numbering gap was left in Middletown just in case the uncontrolled-access part of Route 9 in the area was made into a freeway. According to ConnDOT town maps, the Washington Street intersection is exit 15, and the Hartford Avenue (66 east/17 north) intersection is Exit 16. Exit 17 is missing.
In New Britain, exit 28 (Route 72) and 28A (downtown New Britain) share the same ramp from Route 9 southbound; from 9 north, there is no exit 28A. Also, buried among the ramps in the 9/72 interchange is left exit 27 to Chestnut Street, from 9 southbound only.
From exit 4 (Route 82, Salem) to exit 6 (Day Hill Road, Colchester). The merge with Route 2 has no number. Exits were numbered to count up from the planned start at I-395 and I-95 in Waterford. It looks like Route 11 will be revived, so we could see Exits 1 through 3 in another few decades.
From exit 27 (King St, Greenwich) to exit 68 (I-691, I-91, Route 66) in Meriden. Exit 68 is a three-headed hydra northbound, offering exits 68W, 68N, and 68E. A gap was left in the Berlin Turnpike area (see "History"). I think Route 175 has been shown as Exit 83; exit numbering restarts in earnest at exit 85, Route 99, and ends at exit 90 (Silver Lane, East Hartford). The merge with I-84 is not numbered.
Two exits in Fairfield county were never built: exit 32 in Greenwich, and exit 43 in Westport or Fairfield. Exit 43 was reported to have been for the Sherwood Island Parkway extension, but was cancelled by protests from property owners. Between exits 42 and 44 is the longest stretch of highway in the state (5.5 miles) without an exit.
Exit 30, Butternut Hollow Road in Greenwich, existed as a grade crossing until 1955. Afterward, right turns entering the parkway were allowed, but after a number of accidents, access was closed completely.
From exit 1 (Prospect Street, Bridgeport) to exit 9 (Daniels Farm Rd, Trumbull). Exits 1 through 6 are shared with Route 8.
Exits 1 and 2 in New Haven. These appear to have been added during a signing upgrade circa 1990. Exit 3 has (in 2013) been dismantled.
Exit 1 (US 5, North Haven). Yep, that's it. The terminal interchanges at I-91 and Route 10 are not numbered.
Two incomplete interchanges (exits 12 and 13) continue exit numbering from I-691.
Overlaps I-84 at Cooke's Gap, New Britain - Plainville, and shares some exit numbers. The sequence eastbound is 1, 2, 3, 4, 33, 34, 35, 7, 8, and 9. Following Exit 9 is the interchange at Route 9... no exit number. Thanks to Neil Kelly for this info.
In 2015, a state project to revise signs and exit numbers on I-395 and Route 2A included the pair of exits on SR 695, the unsigned last few miles of the old Connecticut Turnpike. SR 695 has two half-interchanges, at Squaw Rock Road and Ross Road.
Before the renumbering, Squaw Rock Road was Exit 90 (a continuation of Turnpike numbering), and Ross Road had no number – only an "EXIT" gore sign. Old turnpike maps (circa 1960) have shown the terminating merge with US 6 as exit 91, but that's not signed, and is an exit motorists have no choice about taking.
After the renumbering, Ross Road and Squaw Rock Road are Exit 1, with standard, modern side-mounted signs.
Circa 2012, a signing revision project on the Milford Parkway added exit numbers to this unsigned parkway. They are: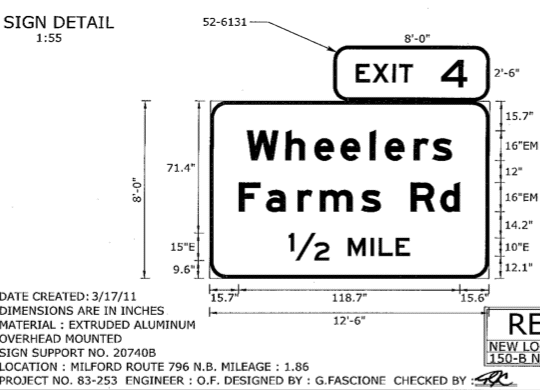 This snippet of a 2011 signing plan for SR 796 shows a new exit number—4— for Wheelers Farms Road.
Oddities and Minutiae
Various trivia follows, discussed further in the route listings above:
Exit 5, 5A, 5B, 5C, 5D, Route 2. Partially explained by a DOT engineer in 1976.
King Street on Route 15 is exit 30 on the New York side, exit 27 on the Connecticut side.
Four exit 90's. Jon Persky pointed this out: the result of two highways branching off the Connecticut Turnpike. Interstate 395, SR 695, I-95, and Route 15 all have an exit 90. In contrast, there's only one exit 79: Route 163 on I-395. (Update: as of late 2015, SR 695's exit 90 was renumbered to a milepost-based exit 1.)
The Ross Road exit on SR 695 eastbound has no signage at all except for an unnumbered "EXIT" sign in the gore. (Update: it's now Exit 1.)
SR 695 and SR 796 are the only freeways in the state with numbered exits but no posted route number.
Missing (never used) exit numbers: I-95 exit 1, I-95 exits 77-79, I-86 exit 103, Route 2 exit 14, Route 15 exits 32, 43, and 69-84.
Oy, exit 27
Michael Tantillo in early 2000 posted:
"Random trivia: In Connecticut, on all 3 2dis in the state, there are exits that are out of order. And on all three, its Exit 27, and the following exit.
"I-95: Exit 27 NB (Lafayette Blvd), Exit 27A (CT 8/25), Exit 27SB (Laf blvd)
"I-91: Exit 27NB (Brainard Road, Airport Road), Exit 28 (US 5/CT 15 South), Exit 27SB (same as above)
"I-84: Exit 27EB (I-691 east), Exit 28: CT 322, Exit 27 wb (I-691 east)
"strange, or what?"
CT-Nexus
Statewide exit numbering is a recent innovation in California. In February 2002, the state announced it would begin numbering nearly 6,000 exits on 92 freeways. The plan is called Cal-Nexus, short for California Numbered Exit Uniform System.
Numbering is milepost-based, starting from the southern or western start of the numbered route (not just the freeway part). This is how the short CA 65 freeway near Sacramento can appear to start at Exit 307, since the start of the southern segment of 65 is that many miles south.
I wondered how some exit numbers would end up if this rigorous system were applied in Connecticut. Here are some results, which I call "CT-Nexus." Milepost is taken from the state highway log at the "center" of the interchange where the mainlines cross. Anything from milepost X.0 to X.99 belongs to exit X+1. Under this system, the state's highest exit number would be Exit 114 on US 6 in Killingly.
| Milepost | Exit # | Destination |
| --- | --- | --- |
| 11.4 | 11A/B | I-91 |
| 13.4 | 14A | Main St., Glastonbury |
| 13.7 | 14B/C | CT 2 |
| Milepost | Exit # | Destination |
| --- | --- | --- |
| 87.8 | 88 | CT 66, Columbia |
| 89.7 | 90 | CT 32 |
| 91.9 | 92 | CT 195 |
| 92.8 | 93 | CT 66/US 6 |
| 111.7 | 112A/B | I-395 |
| 113.4 | 114 | SR 607 (Westcott Rd) |
| Milepost | Exit # | Destination |
| --- | --- | --- |
| 0 | 1A/B/C | I-95/South Norwalk |
| 1.2 | 2A | US 1 |
| 1.8 | 2B | CT 123 |
| 2.9 | 3A/B | CT 15, Merritt Parkway |
| 20.4 | 21 | Wooster Heights Rd. |
| 21.1 | 22A | Park Ave. |
| 21.3 | 22B/C | I-84 |
| 25.2 | 26A/B | I-84 |
| 26.5 | 27 | US 202, Federal Rd. |
| 29.9 | 30 | US 202, former end US 7 Freeway |
| 32.2 | 33 | US 202, new end US 7 Freeway |
| Milepost | Exit # | Destination |
| --- | --- | --- |
| 27.5 | 28 | SSR 401 - Bradley Airport Connector |
| 28.4 | 29 | Hamilton Rd. South |
| 29.0 | 30 | CT 75 |
| 30.3 | 31 | Old County Rd. |
| 31.6 | 32A/B | I-91 |
Sources
Connecticut Official Tourist Map, State of Connecticut, 1965, 1972, 1975, 1977.
"DOT halts plan to renumber interchanges." Hartford Courant, June 28, 1974.
"Will the real Exit 5 please stand up?" Hartford Courant, July 30, 1976.
"Interstates' Exit Numbers Hard to Figure." Hartford Courant, Aug. 19, 1991.
Radde, Bruce. The Merritt Parkway. New Haven: Yale University Press, 1993.
Hennessy, Edward. "Another missing exit." [I-91 exit 11] Personal email, April 26, 2000.
Thanks to Matt Putzel for pointing out a few errors regarding I-91.
Moraseski, Dan. "SR 695." Personal email, Sept. 26, 2001.
Moraseski, Dan. "A couple corrections on the CT exit numbers page." Personal email, Sept. 28, 2001.
"Ask the Courant." Hartford Courant, Nov. 5, 2001. ("Why are numbers missing on some off-ramps on Route 9 in the Middletown area?")
Deschenes, Peter. "Exit page text - Route 9." Personal email, Jan. 23, 2002.
Baranski, Adam. "Exit 2 on I-91 and California to number the exits." Personal email, Feb, 17, 2002.
Pitrelli, John. "minor correction to web page." Personal email, March 13, 2002. [regarding I-84 exit 1]
Larned, Larry. Route 15: The Road to Hartford. Charleston, S.C.: Arcadia Publishing, 2002.
"A mystery solved near the Newtown-Southbury border." News-Times [Danbury, Conn.], Jan. 11, 2011.
State of Connecticut, Department of Transportation. Federal Aid Project No. 0105(103) State Project No. 0083-0253 Update Signing On S.R. 796 (Milford Connector) From U.S. Rte 1 To Rte 15. August 31, 2011.
"No more Exit 80; I-395 numbers to change." Norwich [Conn.] Bulletin, May 14, 2013.
"Mohegan Sun Boulevard exit numbers to be changed; Route 2A exits to be altered along with those of I-395." Norwich [Conn.] Bulletin, May 20, 2013.
"A Changing Road Map: CT Highways To Gradually Get New Exit Numbers." Hartford Courant, Dec. 7, 2014.
Links
Route 120A (a state border-hopping route, with exit number, route number, and speed limit weirdness)