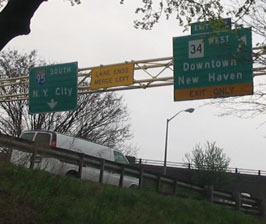 Guide signs at end of I-91 point out I-95 and the start of Route 34, the Richard C. Lee Connector. Photo taken from the sidewalk in New Haven's "Little Italy" section, May 2004, by Kurumi.
Route 34 is an important link between the New Haven, Derby/Ansonia and Danbury areas; the only available freeway alternatives add many miles to some trips. It's also notable for a freeway removal taking place in New Haven: much of the Oak Street Connector will be dismantled and replaced by surface streets
Highway Profile
Route 34 starts as an 8-lane freeway leading from I-91 and I-95 toward downtown New Haven. This is the Richard C. Lee Connector, but the former (and more familiar) name is the Oak Street Connector. At College Street it narrows to 6 lanes, and then at York Street it terminates. There are three exit ramps, all from the westbound direction, and three entrance ramps, all to the eastbound. In this way the short Connector resembles the Conland-Whitehead Highway in Hartford, once planned for I-484.
The Connector was intended to continue past York Street to West Haven, but this won't happen. Instead, Route 34 continues along city streets and frontage roads to Route 10, the Boulevard. A block-wide swath of empty space can be seen: this is Route 34 right-of-way acquired by the state in the late 1960s.
After an overlap with Route 10, Route 34 turns west on Derby Avenue. This two-lane road widens to a four-lane divided highway shortly afterward, and continues like this to Route 115 in Derby. The Route 34 freeway would have connected to this portion near Route 122. At Route 15, the Wilbur Cross Parkway, is one of the few cloverleaf interchanges in Connecticut.
Through Derby, Route 34 is a city street. There has been talk of widening or relocating Route 34 here.
Leaving Derby, Route 34 becomes a two-lane rural highway, and stays this way until its terminus at Washington Street in Newtown. It follows the bank of the Housatonic River for a while, crossing at the Stevenson Dam. In Newtown, its access to I-84 is via a short freeway stub and 3-level interchange once intended for Route 25, a proposed freeway leading to Bridgeport.