Even a small state like Connecticut has its share of the paranormal and outré. UFO's are said to frequent the Enfield area and a stretch of I-84 near Southbury. Low-grade seismic activity creates the "Moodus Noises" near Devil's Hopyard state park and Millington. The state's highway system has a few anomalies as well; I lump them all here.
Civil Defense Routes

Depiction of Civil Route 501 marker (paralleling US 1) in Connecticut, from New York Times, Feb. 6, 1942
In February 1942, with the United States embroiled in World War II on two fronts, the New York-area Metropolitan Defense Transport Committee mapped out a network of secondary Civil Routes in case the main routes were required for military use. The Civil Routes would follow little-used secondary highways and city streets.
The routes were signposted and numbered in the 500s, with route numbers where possible related to the main routes they paralleled. For example, Civil Route 501 would supplement US 1, and CR 628 would back up Route 128. Some routes were actually signed in Connecticut in 1942, and maps were distributed, but I haven't yet seen one of the maps and don't yet know which routes were signed.
At the time Civil Route 501 might have been signed, a "secret route" 501 already existed near Airport Road in Hartford.
Sources
Moraseski, Dan (SPUI). "Re: civil defense 5xx route system in NJ NY and CT." Post to misc.transport.road, March 12, 2002.
"Civilian Route Signs for War Emergency." New York Times, Feb. 6, 1942.
ConnDOT centennial history (1995), http://www.dot.state.ct.us/about/100/chapter5.htm.
Color-Coded Markers
Before expressways were built, navigating a primary highway's route through a Connecticut city could be complicated. Rarely would it follow just one street through downtown: instead there were street changes, overlaps with other routes, and so on.
See more information at Color-Coded Route Markers.
Massachusetts Route 31
The village of Quinebaug is just south of the Massachusetts state line in Woodstock. Massachusetts route 31, heading south from Charlton, allllmost makes it, ending at the state line. Connecticut route 197 is a few hundred yards further.
On Route 197, there's a sign directing drivers to Route 31 along an unnumbered local road (Dresser Hill Rd). Once in Massachusetts, the road improves a bit and a Route 31 marker appears. There's a low-quality image of the Connecticut-side sign in Google Street View.
New York Route 120A
New York's Route 120A slaloms along the Connecticut state line, skirting the Westchester County airport. It spends most of its time in Connecticut, where it is not signposted or recognized as a numbered highway. At its intersection with the Merritt Parkway, the state line runs down the center of the street, and different speed limits apply on each side. For more info and a map, see the Route 120A page.
Route A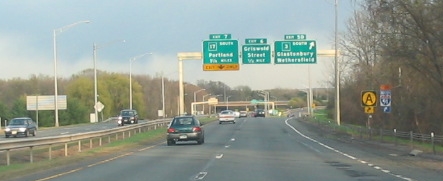 A low-quality "at the wheel" photo shows the orange "A" sign denoting a bypass around Hartford. Location: CT 2 eastbound at CT 3. Photo taken 2004 by Kurumi.
In the 1990s and 2000s, around Hartford or Meriden, you would see what looked like orange route markers with the letter A. "Route A," blazed on existing highways in the area, was an alternate route to I-84 through Hartford.
The state arrived at the idea after an incident in April 1992 where a utility crane tipped onto I-91, killing a motorist and closing the northbound lanes for hours. Presumably crane safety was also addressed, but traffic engineers wanted a way to reroute drivers in case of accidents or construction.
Route A started at I-91 and Route 3, follows Route 3 across the Putnam Bridge, then follows Route 2 to I-84 in East Hartford. Twenty-three signs, 13 northbound, and 20 southbound, marked the route. The signs featured a black "A" in a yellow circle, on a black background.
The DOT said using Route A would 2 to 5 minutes longer than an unblocked I-91.
The state had also recommended using I-691 and I-91 along with Route A for a complete southern bypass of Hartford.
A 1980 Hartford traffic study brought up a "Route A" signing plan for Routes 3 and 2, but suggested marking it Interstate 284. (I-284 was still at the time proposed for the US 5 relocation north of I-84 in East Hartford.)
Also, a Route A was apparently mapped or posted in 1971 to guide motorists across the Mohegan-Pequot Bridge on Route 2A as a detour to I-95.
Sources
"Greater Hartford study." H. W. Lochner, Inc. 1980.
"Looking To Avoid the Fray? Highway 'A' Points the Way." Hartford Courant, Dec. 18, 1992.
Route B
Tired of traffic on Route A? In the past, you could travel to the coastal town of East Lyme for a more bucolic drive along Route B. Just like Route A, Route B was just an alternate signing along existing routes, to bypass a nearby drawbridge. Jay Hogan explains:
"The route B was and is a bypass around the Niantic River Drawbridge/Route 156. The actual route is (on the west side of the Bay in Niantic) Route 161 North to US 1 North in Flanders to Waterford and (from the east side of the Bay near Millstone) Niantic Bay Road to US 1 South in Oswegatchie to Route 161 South in Flanders. I thought that the signs would be taken down upon the completion of the new higher bridge years ago but they even put up newer signs. The route along Niantic River Road is very scenic with a lot of nice houses. Route B is only signed in portions near Route 161/US 1 in Flanders and at Niantic Bay Road off Route 156. I was on this road today and its a nice drive to bypass the bridge."
Thanks to Peter Storms for some corrections (such as East Lyme, not Lyme :-)
Dinosaurs!
Rocky Hill's Dinosaur State Park was established in 1968, two years after excavation for a ConnDOT project uncovered dinosaur tracks. Some stories say this was in the path of a planned highway, but that isn't true.
The state highway department chose the site for a Highway Department Research Laboratory. A project engineer recognized the fossilized tracks and spread the word about the discovery. Work was eventually stopped.
The coda: "The Highway Department, deprived of their original site, had to recommence operations about a mile farther east, and rumor has it that the bulldozer operators were given strict orders to stop for nothing."
Sources