Introduction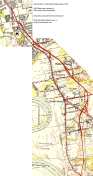 Scan of USGS 1953 area map, shortly after expressway opened. Also see
larger image
(242K). Map scans courtesy of
University of New Hampshire, Dimond Library
.
The East Hartford - Glastonbury Expressway, which opened in 1952 and 1953, is a 4.6-mile segment of what is now routes 2 and 17, from High Street in East Hartford to Main Street in Glastonbury. This page discusses the planning of the highway, its opening, and its later use as a part of the area's expressway network.
Route 15 background
Highway documents from the 1940s can confuse readers who don't know that Route 15 now takes a different alignment compared to that era. Route 15 originally started in New Haven, then entered Durham, Middletown, and Glastonbury along present-day Route 17; followed Main Street through East Hartford; then visited South Windsor, Vernon, Tolland and Stafford along today's Route 30.
In 1948, to help motorists navigate across the state, Route 15 was applied to the Merritt and Wilbur Cross Parkways, Berlin Turnpike, and Charter Oak Bridge highways (as Route 15 goes now), and the Wilbur Cross Highway (now I-84) to Massachusetts. The original Route 15 south of East Hartford was renumbered to Route 17.
Relieving Main Street
Main Street is a north-south commercial street in East Hartford and Glastonbury. In the early 1940s, it was the primary means of getting to Hartford from the southeast, and was suffering from extreme congestion. The street had already been widened to four lanes north of Brewer Street, but was two lanes wide to the south. Traffic planners began to look for a solution.
In October 1945 a traffic study was conducted, and the conclusions were:
Main Street is one of the least adequate sections of road in the state for its level of traffic;
A four-lane divided highway is needed to serve the traffic;
Widening the two-lane part of Main Street to that profile is not feasible because of densely developed business and residential property;
Only a limited access highway will assure adequate traffic service in the future;
Provision for an expressway extension to the north should be included.
Three alternatives for route location were proposed in the 1945 study. A September 1946 report examined those alternatives and recommended the easterly route, and Highway Commissioner Cox announced his agreement in mid-1947.
Alternative Line A (see diagram from 1946 report)
Line A is close to how the expressway was eventually built. Starting at Main Street south of Glastonbury Center, the road would continue as two lanes to at-grade intersections with Hubbard Street and Williams Street. Crossing New London Turnpike, the expressway would provide an interchange and widen to four lanes. Interchanges would also be provided at Route 94, Griswold Street, Maple Street, and Sutton Avenue. A pair of ramps would connect with Main Street at the town line, and also at the expressway's north end, at Main Street, High Street, and Brewer Street. Spring Street in Glastonbury would be severed.
The plan was brutally pragmatic about its role as a bypass. Each interchange would provide access to and from the north only. That meant wherever you entered the expressway (and you could only get on northbound) there was no exit until its north end. Also, if you took an exit southbound, there was no way to get back on the highway in the same direction.
Alternative Line E (diagram)
Line E would bypass Glastonbury to the west instead of the east. Starting at Main Street just south of Hubbard Street, the two-lane highway would swing west then north, providing an interchange at Naubuc Avenue at Welles Street. Crossing Naubuc Avenue again, the now four-lane expressway would parallel it to the west, providing an interchange at an extended Broad Street, before ending at Main Street near Ensign Street.
Alternative Line G (diagram)
Line G resembles Line E, but adds a spur from the town line southeasterly to meet Line A at Hebron Avenue. Interchanges would be provided at Main Street (near Pratt Street) and Hebron Avenue.
Building the Expressway
and Brewer streets. North is to the right.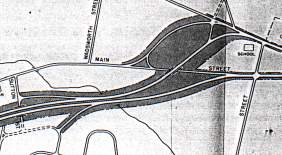 From 1946 plan: northern terminus of EH-Glast Expressway at Main, High,
Construction began on Sept. 8, 1949 along the Line A alignment, and the expressway opened on Nov. 21, 1952. Route 2 was assigned to the roadway north of New London Turnpike, and Route 17 south of there. A few access changes were applied to the original Line A plan (see scan of 1953 USGS map (242K)).
Glastonbury officials, concerned over the safety of students walking to the nearby high school (which was also new construction), lobbied the state to add a grade separation at Hubbard Street, with ramps to and from the north. The four-lane divided section of the expressway was extended to Hubbard Street; south of there, Route 17 is still a "Super 2" -- two lanes undivided, but access fully controlled.
An at-grade intersection had also been planned for Williams Street, but the new overpass at Hubbard Street raised the expressway profile enough to make either a signalized intersection or another overpass too expensive. Instead, Williams Street was cut in half. Workers at the J. B. Williams company asked for a pedestrian underpass for easier access to their homes, but none was built.

CT 17 at New London Turnpike.
At New London Turnpike, a five-ramp interchange was built, offering a direct connection from southbound to eastbound. This would be the path Route 2 took until it was relocated from New London Turnpike in the 1960s.
Near Griswold Street, ramps were added to serve traffic to and from the south: an exit ramp to House Street and an entrance ramp from Bantle Road. This created an effective full diamond interchange (but split) at Griswold Street. (These ramps were removed in 1987 when the Route 3 interchange was built.)
At Maple Street, a full diamond interchange was built, instead of the original half-diamond pointing to the north. (The westbound exit ramp was removed in 1987 when the Route 3 interchange was built.)
Connecting to Other Expressways
The East Hartford - Glastonbury Expressway opened in 1952 isolated from other expressways in the state. Over the years, most of the plans to connect it to a statewide network have been carried out.
On Sept. 1, 1961, the Route 2 expressway was extended northward to Pitkin Street. Surface street connections guided drivers to the Bulkeley Bridge or the new State Street Bridge (now the Founders Bridge). In October 1965, the "Mixmaster" interchange with I-84 opened, with provisions for a further expansion to the north. However, the "Relocated US 5" expressway, later to be called Interstate 284, was never built.
Shortly after the original expressway opened, the state started planning a relocation of Route 2 toward New London. Part of this expressway (from Route 17 to an existing "Super 2" road starting at exit 12 in Marlborough) opened around 1962. The manner in which Route 2 was joined to the older expressway accounts for the left exit and entrance at Routes 2 and 17.
The 1950s plans included widening Route 2 near a projected interchange with Interstate 491 (now Route 3) at the Glastonbury - East Hartford town line. I-491 was eventually cancelled, but the Route 3 expressway was completed between Route 2 and Interstate 91 in 1987. A few years later, Route 2 was widened to three lanes in each direction between routes 3 and 17.
In the 1960s, the state added Route 17 to its expressway plan, proposing a freeway extension from Hubbard Street down to a proposed Route 66 expressway in Portland. This was never built.
What has changed since 1952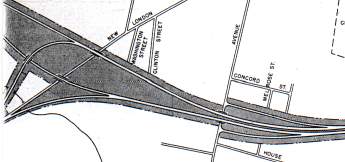 From 1946 plan: Line A concept for interchanges at New London Turnpike (left) and Hebron Avenue (right). North is to the right. The Expressway as constructed intersected Hebron Ave. east of House Street, and provided a 5-ramp interchange at New London Turnpike.
On New Year's Eve, 1958, the Putnam Bridge opened. I believe a ramp from Main Street to Route 2 eastbound (Expressway southbound) at the town line was added at that time. (That entire interchange was removed when the Route 2-3 connector was built).
On Sept. 1, 1961, the Expressway was extended north to Pitkin Street (see above).
On Oct, 15, 1964, the new Route 2 freeway opened to the east at Hebron Avenue; the segment of the Expressway between there and New London Turnpike was assigned to Route 17. Because of the short merging distance, access to Route 17 from Bantle Road was now prohibited. (The Bantle Road entrance ramp was removed when the Route 2-3 connector was built).
In 1975, the state's Suggested Improvements Program included a major widening of Route 2 from Main Street (exit 5A) to Route 94 (exit 8), presumably to six lanes. The total cost was $6.6 million, and most of the work was projected to start after 1978. This was not done, although auxiliary lanes were added between routes 3 and 17 in 1990.
In 1987, a trumpet interchange was built at the town line to connect the upgraded Route 3 freeway with Route 2. The following ramps were removed from the area: westbound exit to Maple Street; all three ramps to Main Street (the original exit 5D); westbound exit to House Street; eastbound entrance from Bantle Road.
In 1990, auxiliary lanes were added between routes 3 and 17, making the highway six lanes in that area.
Also around 1990, alternative plans for improving Glastonbury traffic included adding ramps from Route 2 near House Street to the Western Boulevard industrial area. There would be an eastbound exit flyover and a westbound onramp. These were never built.
Sources
Connecticut Bureau of Highway Planning. Proposed Improvement of Route 15 in Glastonbury and East Hartford. September 1946. ["Route 15" is today's Route 17.]
"Cox convinced east expressway best for town." Hartford Courant, June 23, 1947. [Highway Commissioner Cox recommends Line A.]
"Expressway slated to be completed by Nov. 1952." Hartford Courant, April 26, 1951.
"Construction of Highway is in Offing." Glastonbury Citizen, June 7, 1951.
"Workers Ask Walk Across Expressway." Glastonbury Citizen, May 16, 1952.
"Dual-lane Expressway opens Nov 21." Hartford Courant, Nov. 12, 1952.
Connecticut State Highway Department. "Report on a Modern Highway Between New London and Hartford." December 1958.
"Connecticut: Choices for Action." Connecticut Interregional Planning Program, 1966.
"1975 Master Transportation Plan." Connecticut Department of Transportation.
Links