Introduction
Of Connecticut's many unique interchanges, the Route 8 / Interstate 84 connection stands out: I-84 is double-decked as it crosses Route 8 and the Naugatuck River, and Route 8 is also double-decked just south of I-84.
These are the only decked sections of two-way freeway in the state, though some other areas come close. I-91 in Hartford is three levels at I-84, but the roadways are not on top of each other. Route 8 is the top layer of a vertical overlap with Route 67 in Seymour. SR 403, the service road at Bradley International Airport, is one-way, yet still double-decked (for arrivals and departures). Double-decking has been brought up as a means of widening I-95 in Fairfield County; but to many, the only advantage of that idea is the ability to say "sure it's ugly now, but at least it's not double-decked."
Design issues
The odd configuration of the interchange is a reaction to several design constraints in the area. In 1959, a Connecticut Highway Department assistant chief engineer listed them:
Full interchange needed between both highways, as well as access to city streets
Heavy traffic volumes [requiring directional ramps, rather than loops]
Crossing the Naugatuck River
A heavily industrialized area on the east bank
A steep slope leading down to the west bank
History
An interchange between an east-west highway and north-south highway had been planned since the late 1940s here. Part of the interchange opened on October 31, 1967, completing the I-84 portion; and the rest opened in summer 1968.
It was known as one of the most complicated interchanges in the country at the time, and was featured on the cover of the 1969 Connecticut state map. Below is detail from that map cover.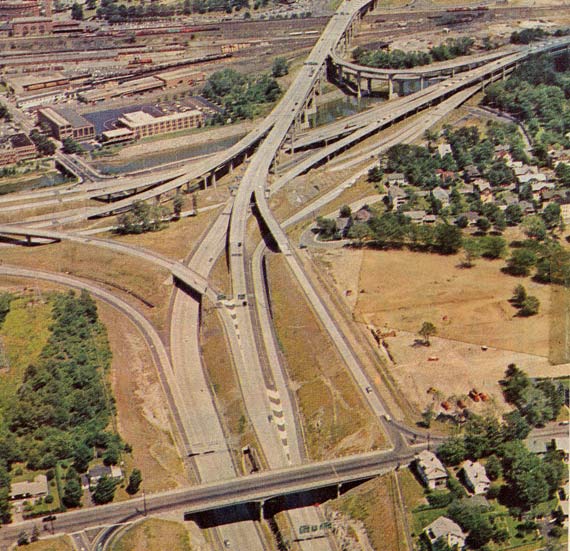 I-84 eastbound (the upper deck) goes toward the top of the page; Route 8 north goes toward the left.
Next is a cartographer's view; detail from the Waterbury inset, 1969 state map. What isn't visible is that I-84's lanes were reversed for a while east of there (eastbound lanes to the left of the westbound). This was fixed when I-84 was reconstructed in the 1970s.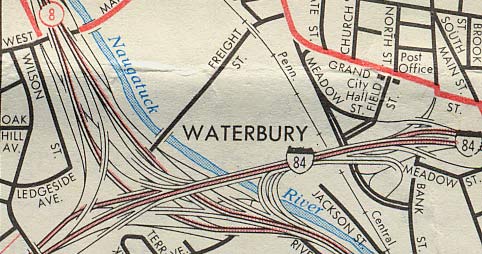 Next is a driver's view, from Route 8 northbound, taken by Jim K. Georges. This interchange is one of his favorites as well.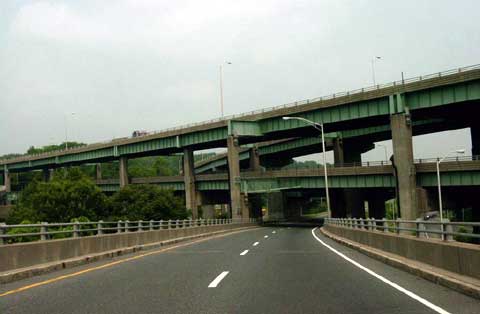 Next is a postcard (not making this up), view from the southwest.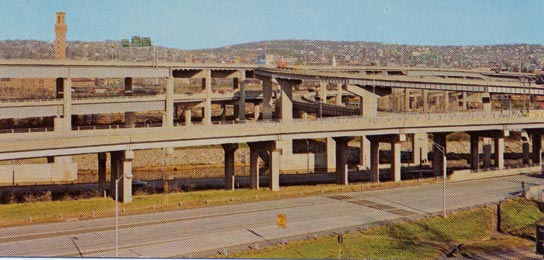 Interchange Facts
Completed: Oct. 27, 1967
Cost: $25 million
Height above ground level: 90 feet (eastbound I-84 deck)
Depth of dredging needed to provide solid base for I-84 support: 30 feet
Depth of cut through hill at western bank for I-84: 55 feet
Time elapsed from conception to opening date: 20 years
Just need a few billion dollars...
In January 2000, Wilbur Smith and Associates started a 16-month study of I-84 operations between Southbury and Waterbury. Their early assessment of the Route 8 interchange:
The entire interchange, with multiple left side on and off ramps and limited through lanes, is operationally deficient.
In early 2005, the I-84 / Route 8 Waterbury Interchange Needs Study was initiated. ConnDOT and four engineering firms were studying the interchange and surrounding area, including exits 18 through 23 on I-84, and exits 30 through 35 on Route 8.
Deficiencies already noted include poor geometry, above average accident rate and a projected unacceptable level of service by 2025.
As of 2020, however, a rehabilitation of the interchange structures as-is is underway.
Sources
Johnson, David S. "Photogrammetry in Highway Planning." Highway Research Bulletin #228, National Academy of Sciences, 1959.
"Intersection 20 years in building: Link Nearly Ready." Hartford Times, Aug. 19. 1966.
"Strategic Link Opened Between I-84 And Rt. 8." Hartford Courant, Oct. 28, 1967.
"Last I-84 Portion to be Opened in Waterbury Today." Hartford Times, Oct. 31, 1967.
"1969 Map of Connecticut," Connecticut Highway Department... 1969.
Links