Route 22 is one of several L-shaped routes in the state, marked east-west in some locations and north-south in others. It's also notable for being an ancestor to Route 40 and having the only bannered truck route in the state.
Route 22 is an artificial designation of sorts, made up of portions of three differently-numbered routes in 1951, to guide motorists from point A (the new Wilbur Cross Parkway in Hamden) to point B (US 1 in Branford). Seen in this light, its crooked path is a bypass of New Haven.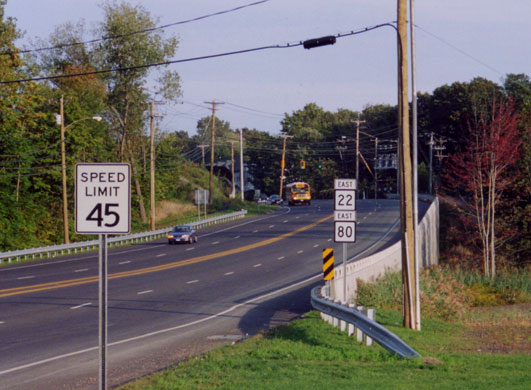 Looking east along Routes 22 and 80, just after they join in North Branford. Photo taken by Kurumi in September 2002.
Trucks restricted, and separate truck route
1.03 miles of Route 22 in North Haven, from State Street (US 5) to the Hamden town line, is prohibited to thru trucks. This is rare for state highways other than the Merritt, Wilbur Cross and Milford parkways. The restriction was made in 1972.
This results in Connecticut's only bannered truck route. Truck 22 is not in the highway log, but is signed in places (such was westbound Dixwell Avenue at Route 10; street view). Its route, from west to east:
Overlap with Route 10, from Route 22 to Dixwell Avenue
Dixwell Avenue (SR 717), from Route 10 to US 5
US 5, from Dixwell Avenue to Route 22