Introduction
The Founders Bridge, carrying Route 2 across the Connecticut River, connects downtown Hartford with the "Mixmaster" interchange at I-84 and Route 2 in East Hartford. Built in 1957 as a utilitarian crossing with few frills, the bridge was reconstructed in 1999 as the attractive centerpiece of an ambitious reconnecting of both cities and their riverfronts.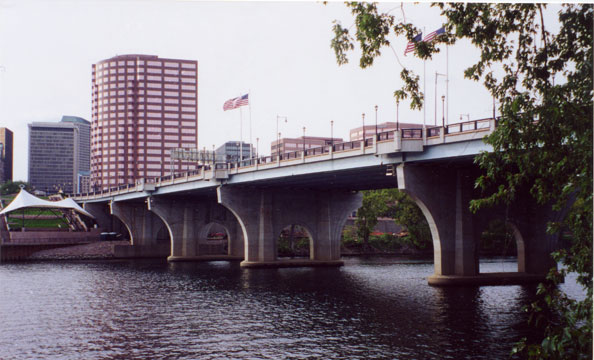 Founders Bridge and Hartford river access, seen from East Hartford side. Photo taken Sept. 2002 by Kurumi.
History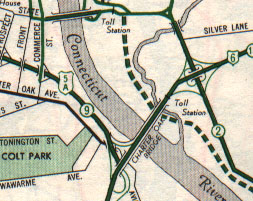 State Street (Founders) Bridge shown at top of excerpt from 1959 official state highway map.
In the first half of the 20th century, the Bulkeley Bridge, which today carries Interstate 84, was the only Connecticut River bridge between Middletown and Warehouse Point. The Charter Oak Bridge (US 5/CT 15), built in 1942, helped divert traffic, but by the end of the 1940s congestion on the Bulkeley had risen again. In 1950, transportation officials proposed a new State Street Bridge, named after its terminus in Hartford. In 1955, this planned bridge was renamed the Founders Bridge.
In 1955, Governor Abraham Ribicoff established the Greater Hartford Bridge Authority, in order to devise a multi-bridge plan for the Hartford region. The Authority was responsible for the planned Founders Bridge, along with the new Putnam and Bissell Bridges, and tolls on the Charter Oak and Bulkeley bridges. Its duties were turned over to the state highway commissioner in 1959, after all three new bridges were built.
The First Founders Bridge
The Founders Bridge opened on Dec. 23, 1957 at a cost of $5 million. The plain, six-lane span connected State Street in Hartford to Pitkin Street in East Hartford. The bridge charged a toll, collected on the East Hartford side. Tolls were eventually removed, probably when the bridge was connected to interstates 84 and 91.
As I-84 and I-91 were built in the area, the Founders Bridge was put to work as a direct connection from CT 2/I-84 westbound to I-91 southbound, and from I-91 northbound to CT 2/I-84 eastbound. The split-deck treatment for I-91 at I-84 (southbound 91 is above I-84, and northbound below) also existed for the Founders Bridge. Two short ramps connected I-91 to the Founders span (see figure).
In October 1965, the five-way "Mixmaster" interchange was completed in East Hartford, connecting the Founders Bridge to I-84, Route 2 eastbound, and a proposed US 5 (later I-284) relocation northward.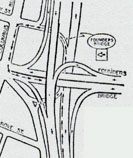 Interchange detail, Founders Bridge at old I-91 alignment.
Aesthetic and Traffic Problems
As the 1960s and '70s progressed, two major flaws with the I-91/Founders Bridge area proved irritating to all and tragic for an unlucky few. The elevated I-91 southbound viaduct blocked access to the riverfront, and even blocked the view from the Hartford side. The ramp configuration, when mixed with the substandard Whitehead Highway and I-84/Morgan Street interchanges, required frequent, quick and precise lane changes. The unforgiving, confusing layout became known as a death trap, and by 1968 the governor was furious, officials proposed closing up to seven nearby ramps, and businesses were fighting to retain highway access.
In 1981, a group that later became the nonprofit Riverfront Recapture started planning how to restore pedestrian and recreational access to the Connecticut River. At the same time, highway engineers were studying how to untangle a series of underpowered ramps whose design assumed the completion of another highway (I-484) that was later cancelled.
The ambitious plan: lower the I-91 southbound roadway to pass underneath a rebuilt Founders Bridge and a plaza leading to the riverfront. This would be the crown jewel of a series of renovations and trails on both sides of the river.
Rebuilding the Founders
In 1991, the rebuilt Charter Oak Bridge opened to the south, and explicitly took over the 84/91 connecting role the Founders Bridge had supported. The two narrow ramps between the Founders and I-91, one a left entrance onto southbound I-91, were closed and dismantled afterward.
After the I-91 southbound connection was closed off, the state revised signing to explicitly show Route 2 westbound across the bridge into Hartford. Before this, as far as motorists were concerned, Route 2 ended at the Mixmaster.
By 1994 new support piers were in place. The Founders Bridge was being rebuilt from underneath without closing to traffic. In 1999 the new bridge was complete, with these features:
seven traffic lanes (4 westbound, 3 eastbound)
an 18-foot wide sidewalk on the southern side
pedestrian connections to East Hartford riverside trails and a Riverfront Plaza with terrace on the Hartford side (see photo below)
In 2001 a walkway was completed to link the bridge walkway across Columbus Boulevard to Constitution Plaza.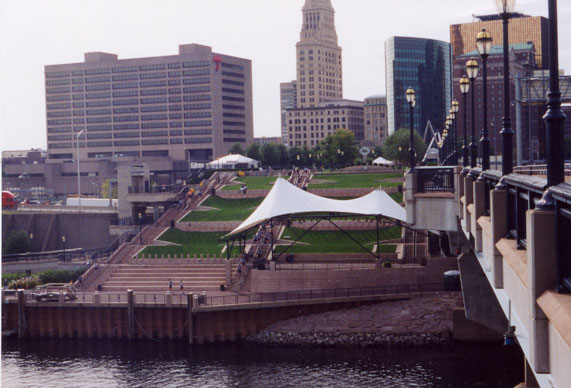 Terraces leading from Founders Bridge promenade to Connecticut River, Hartford side. View from mid-span on Founders Bridge. It looks much better with I-91 out of sight! Photo taken Sept. 2002 by Kurumi.
One man's verdict
I haven't been able to follow events in the area during the decades since the Riverfront Recapture project was conceived in 1981. But the results are excellent. You can park in East Hartford and walk along the river's edge, hearing the water gently lap against the shore. Then take stairs onto the Founders Bridge and enjoy great views in all directions as you walk into Hartford.
Sources
Connecticut Department of Transportation. "Managing Travel in Connecticut: 100 Years of Progress." http://www.dot.state.ct.us/about/100/index.htm (broken link; accessed 3 Oct 2002)
General Statutes of Connecticut, Title 13a, Chapter 237, Sec. 13a-30. "Founders Bridge named." 1955.
Connecticut Highway Department. Highway Commissioner's Biennial Report. Wethersfield: 1940.
"Future Hartford: New Bridge Across the River." Hartford Courant or Times (clipping incompletely labeled), Oct. 28, 1950.
"State Street Definite Site for 3rd Bridge." Hartford Times, Feb. 1, 1952.
"2-Way State Street Span, Bulkeley Widening Set." Hartford Times, June 26, 1952.
"Hartford Bridge Open: Second span at Connecticut River is dedicated." New York Times, Dec. 24, 1957.
"I-91 Switch Zone eliminated." Hartford Courant, April 22, 1966.
"Widening of Founders Bridge last major link in I-91 chain." Hartford Courant, Feb. 11, 1992.
"The River of Dreams: Riverfront Recapture, Inc. Annual Report 1993-1994."
Faude, Wilson H. "Images of America: Lost Hartford." Charleston, S.C.: Arcadia Publishing, 2000.
Links