I-152
California
(link)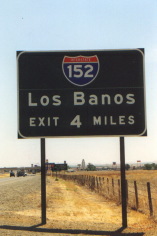 Sign goof, for CA 152 on I-5 southbound. CalTrans has since corrected the sign. Photo by Curtis Perry.
In real life, there's no such thing as Interstate 52, or even I-152. This was just a conspicuous signing error by Caltrans, on I-5 southbound near Los Banos. But the photo, by Curtis Perry, is eye candy too tasty to keep to one's self.
In August 2000, Mike Ballard reported that Caltrans had corrected the sign. [2

]
State route 152 runs from CA 1 in Watsonville to CA 99 in Chowchilla, and part of it is a controlled-access expressway. Even if it were promoted to interstate status, keeping the number 152 would be very unlikely. After all, California hasn't used up all its x38's yet.
See also: Full-size photo.
Signing errors are a popular topic on misc.transport.road, and California is not alone. Connecticut, for example, updated a big green sign for US 5 and CT 15 with the markers switched, giving state route 5 and US 15.
Ballard, Mike. 'Re: CA 152 Bypass around Los Banos discussed.' Posting to misc.transport.road, Aug. 25, 2000.