---
These icons (

) show footnotes as tooltips... for some browsers.
---
Kurumi's Gym
Texas has the most 2-digit interstates that are also standard barbell plates: 10, 35, 45.
I-345 (not signed as interstate)
Texas
(link)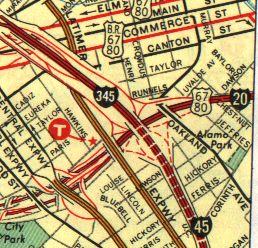 I-345 isn't signed, but has appeared in some maps, including this 1971 Texaco inset (Gousha).
1.40 miles [
1

]; Interstate 345 is the official, but unsignposted, number for the north-south freeway connecting I-45 and I-30 to US 75 and Spur 366 in downtown Dallas.
The northbound lanes are signed US 75, and the southbound lanes are signed as I-45. Locals call it "the I-45 overhead" (it's elevated for its entire length) or the Julius Schepps Freeway. [2

]
Interstate 345 was approved for the Interstate system on Oct. 15, 1964. [3

] [5

] The first lanes opened in July 1971 and all of I-345 was scheduled to open by the end of that year. [6

]
In July 2002, Dallas leaders were discussing clarifying some area highways by adding numerical route markers -- and this could include signs for I-345. [4

]
See also:
Route Log and Finder List - Interstate Highways, FHWA, Oct. 31, 2002.
Stanek, David. (Texas roads)
"Questionable Basis for Approving Certain Auxiliary Route Segments Of The Interstate Highway System." FHWA and DOT, July 1970 (via Stephen Summers, Jan. 26, 2002).
"Road Names Honor Texas Leaders." Dallas Morning News, "Road Runner" column (Tony Hartzel), July 7, 2002.
Texas Department of Transportation. Interstate 345 Highway Designation File. http://www.txdot.state.tx.us/tpp/hwy/ih/ih0345.htm (26 Sept. 2003)
Slotboom, Erik. "Re: I(H)-45 in Dallas." Online posting, misc.transport.road, 5 July 2004.-45 in Dallas/5 July 2004)