I-220
Louisiana
(link)
17.62 miles [1

]; loops north of I-20 in Shreveport. Interstate 220 has been planned since 1971 or earlier. [7

] The bridge across Cross Lake opened around 1991, completing the bypass.
I-220
Mississippi
(link)
12.012 miles [4

]; from I-20 to I-55 in Jackson. Planned since 1971 or earlier [7

]; finished by 1981.
I-420 (cancelled)
Georgia
(link)
Interstate 420 would have been an eastward extension of the Lakewood Freeway (GA 166) in Atlanta, to I-20 in DeKalb County. It would have intersected the proposed I-475 and I-675. The proposal was still in the federal highway log in 1978. [9

]
Existing road not up to standards
GA 166 would have required serious upgrading, as it doesn't meet interstate standards; it's a tight four lanes with small exit ramps and short merges. [8

]
"Trent" writes on MTR:
"For those of you who have traveled this road, you all have probably noticed how substandard this freeway is. That is precisely why I wanted to drive on it. I noticed a few things besides the low clearances, substandard ramps and winding roadway. First, the freeway still has curbs on the shoulders-something common in the 1960's. Second, I found that this particular road has a few of the extremely rare fiberglass BGS mostly removed in the 1990's. I didn't think any were still around, but there they were. Also, the guardrail in the median was a disaster-beaten up obviously by numerous wrecks-even car fires-and rust.

"The east end of the freeway ends into a partial ramp immediately east of I-75/I-85. At this ramp, a ghost ramp continues straight and is used by GDOT as a storage area for maintenance purposes. It ends at Lakewood Avenue just west of the Hifi Buys (formerly Lakewood) Amphitheater. Had it been built, this would have continued to I-20 as I-420 (and no doubt would have had a cult following :) Most everything on this road was old and it looked as if the road had been trapped in the 1960's or 1970's, but was maintained and in good condtion. It is mostly a four lane divided concrete road with asphalt only at the I-75/I-85 interchange. At I-285, it is still a 1960's era interchange with crossovers instead of a flyover from westbound GA 166 to SB I-285. This ramp has a curb, little shoulder and narrow bridges. Only around the I-75/I-85 interchange had the road improved where the interchange was reconstructed around 1987. [10]
I searched for Interstate 420 and I found "High Times"
Probably just as well I-420 wasn't built: the "420" number has a special meaning among pot smokers. Whether it's a police radio code in some city, or simply the best time of the day to light one up, many aren't sure; but whether or not marijuana needed yet another slang term, "420" has become one.
I-420 (cancelled)
Louisiana
(link)
In 1959, AASHTO)">AASHO approved a northern bypass of Monroe as I-420. [11

] It was cancelled on Oct. 12, 1964, in order to make Interstate system mileage allocated to Lousiana available for proposed I-310, the Vieux Carré Expressway, in New Orleans. [21

]
This I-310 (no relation to the newer I-310 that was constructed west of the city) was very controversial and was itself cancelled in 1969.
An FHWA document regarding I-310 reveals some information about the planned I-420: [21

]
10.2 miles
about $29 million projected cost in 1964
a two-lane facility! Perhaps the plan was to upgrade it later.
2,500 to 3,000 project ADT
See also:
I-520
Georgia; South Carolina
(link)
10.34 miles [1

]. The Bobby Jones Expressway bypasses Augusta to the south. It became Interstate 520 around 1980. The highway is actually about 19 miles long; the 10.34-mile figure reflects I-520's earlier terminus at Doug Barnard Pkwy (Georgia Spur 56).
Extending 520: The Palmetto Parkway
Since the early 1970s, area officials have planned a bypass connecting Augusta and Aiken, S. C., crossing the Savannah River. This is now underway, and involves extending I-520. At the state line, the name changes from Bobby Jones Expressway to Palmetto Parkway. The highway is planned to eventually reconnect to I-20 in Aiken.
On July 31, 1998, I-520 was extended from Doug Barnard Pkwy (Spur 56) to Sand Bar Ferry Rd (GA 28): quite close to the Savannah River and the state line. [15

]
On June 22, 2004, it was extended 2.5 miles across the Savannah River to US 1 in North Augusta, S. C. The $43 million project included a new bridge. [20

] There was scattered support for making the bridge six lanes wide instead of four: Augusta and SCDOT in favor, GaDOT unconvinced. [6

] I don't know which side prevailed.
A further 8-mile extension is planned, to connect to I-20 at US 25 (exit 5). Total cost: about $160 million. [5

] But funding is tight, and the completion date is not known. [16

]
The salient question for this website is, of course, will the I-520 designation be extended along the new freeway? Though I've seen no documents with FHWA or AASHTO supporting this, the answer seems to be "yes". Aiken County documents and contracts refer to the Interstate 520 extension, and North Augusta, S. C. Mayor Lark Jones did remark at the 2002 Savannah River segment groundbreaking: "There was a time when I thought the only time I'd be on I-520 in South Carolina would be during my funeral." [14

]
Furthermore, the 2003 South Carolina state map refers to the road as I-520. [18

]
Who was Bobby Jones?
Being a smart-ass Yankee, I had assumed Bobby Jones was a local hero for chasing away an African-American family that was trying to move into town, or something similar. Actually, Bobby was an excellent amateur US golfer in the 1920's and 1930's. He designed the Augusta National Golf Course, which has hosted the Masters Tournament since the mid 1930's. [8

]
35.17 miles [1

]; loops north of I-20 around Fort Worth.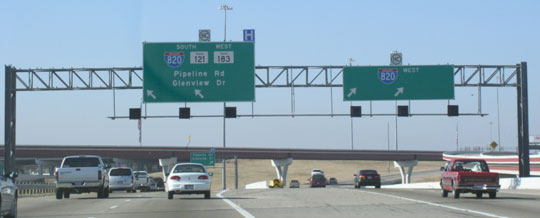 I-820's change in cardinal direction is explicit at TX 183: at this interchange, you can choose 820 southbound or westbound.
Photo taken approaching on TX 183 west, by Kurumi, in December 2003. (larger photo)
Designation
Picture Interstate 820 and I-20 forming a complete loop around the city. On Oct. 1, 1959, the Bureau of Public Roads (BPR) approved I-820 at a location leading from I-30 (formerly I-20) west of Forth Worth, leading southeast, east, north and west to end at I-35W north of the city. [17

]
In 1968, a northwestern leg was added to the designation, completing the loop. [17

]
In December 1971, I-20 was relocated (it used to run where I-30 does now between Forth Worth and Dallas), and part of I-820 was transferred to I-20, leaving both the way they are today. [17

] For three years, then, I-820 was officially a complete loop.
Construction
Work began on I-820 around 1960 and was completed around 1980.
The Number
Why Interstate 820, instead of 220 or 420? Joe Isham writes that Amon Carter, who owned the Fort Worth Star-Telegram and radio station WBAP (820 AM), rubbed elbows and got some free publicity for the station. [3

] WBAP hasn't responded to polite inquiries about this.
Such backdoor dealing is, of course, completely uncharacteristic of the way Texans do business.
See also:
Route Log and Finder List - Interstate Highways, FHWA, Oct. 31, 2002.
Isham, Joe. "Re: Ultimate Road." Online posting, misc.transport.road, Radio Geekery Connection?/Feb. 28, 2000.
Mississippi DOT, via Adam Froehlig
"Road plan obstacles targeted." Augusta [Ga.] Chronicle, March 12, 2001.
"Council backs six-lane bridge plan." Augusta [Ga.] Chronicle, June 4, 2002.
Route Log and Finder List - Interstate Highways, USDOT, 1971
Daitch, Arnold. "I-520." Email to Kurumi, Aug. 13, 1997.
Route Log and Finder List - Interstate Highways, USDOT, 1971
"Trent". "Cruising down the Lakewood Freeway in Atlanta." Online posting, misc.transport.road, Feb. 19. 2003.
Summers, Stephen. "Interstate system route numbering." http://www.nwindianahwys.homestead.com/INTER_MAIN.HTML. (23 April 2003)
Goodhand, Roy Robert. "Update on I-520 in Augusta/Aiken as of Apr. 22, 2003." Email to Kurumi, May 24, 2003.
"Work on bridge begins." Augusta [Ga.] Chronicle, Jan. 15, 2003.
"Officials dig in to road plan." Augusta [Ga.] Chronicle, Nov. 12, 2002.
"Lack of cash stalls expressway." Augusta [Ga.] Chronicle, Sept. 8, 1998.
Craig, Jeremy. "I-520 update, Augusta GA/Aiken SC." Personal email, June 16, 2003.
Texas Department of Transportation. Interstate 820 Highway Designation File. http://www.txdot.state.tx.us/tpp/hwy/ih/ih0820.htm (26 Sept. 2003)
McCool, Sean. "I-520 in South Carolina." Personal email, Nov. 19, 2003.
Goodhand, Roy Robert. "I-520 miswording." Personal email, June 21, 2003.
"Parkway prepares for debut: 1st part of Interstate 520 extension opens today." Augusta [Ga.] Chronicle, June 22, 2004. (Thanks to Alex Nitzman)
Weingroff, Richard F. "The Battles of New Orleans - Vieux Carré Riverfront Expressway (I-310)." http://www.fhwa.dot.gov/infrastructure/neworleans.htm