State route 291 no longer exists; the number is used by I-291.
On Dec. 16, 1957, the Bissell Bridge opened, connecting Wolcott Street in Windsor to a short freeway leading to US 5 in East Hartford. A diamond interchange on I-91 provided access to the four-lane bridge approach on the west side. The access roads were state-maintained, but not given a signed route number; internally, the designation was SR 487.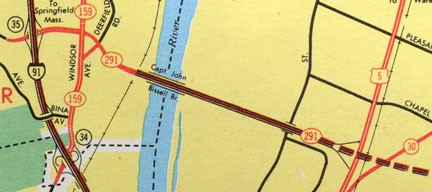 State route 291 and the Bissell Bridge approaches predated I-291 by more than 30 years. Scan from official Connecticut State map, 1989.
In the late 1950s, state plans for I-291 had that route existing west of I-91 only; a state road would continue east across the Bissell Bridge to Manchester. In the 1960s, the eastern leg was added to the proposed I-291. Since none of I-291 was yet constructed, except the bridge and the East Hartford freeway, that road from I-91 to US 5 was given the state route 291 designation as a placeholder in 1962.
The only other instance of a state number being used the same way is state route 95 in Groton and Stonington, which served as a continuation of I-95 until it was completed in the area in 1964. Old state route 95 is now Route 184.
In 1992, I-291 was partially complete, leading from I-91 to US 5. State route 291 markers came down; the freeway became I-291, and the surface street portion in Windsor became part of an extended Route 218. I-291 was completed to I-84 in 1994.