I-205
California
(link)
12.97 miles [1

]; from I-5 near Tracy to the bend in I-580 toward San Francisco. According to the 2002 federal interstate highway log, Interstate 205 and I-180 in Illinois are the only 3-digit interstates that do not serve any cities of 50,000 or greater.
This dishonor is a bit misleading; I-205 serves "wide area commutes" (Central Valley into the San Francisco Bay Area) and recreational traffic (Reno, Tahoe). Most drivers would love to see this road as uncrowded as I-180.
History
I-205 was approved as a chargeable interstate ("North Tracy Bypass") in November 1957. [3

] It parallels old US 50 and was built in the early 1970s as a four-lane freeway.
More lanes, please
About 3 miles of I-205, between I-580 and Business 205, were widened to six lanes in 1998 and 1999. [5

] The remainder will be widened to six lanes beginning in 2004. [7

]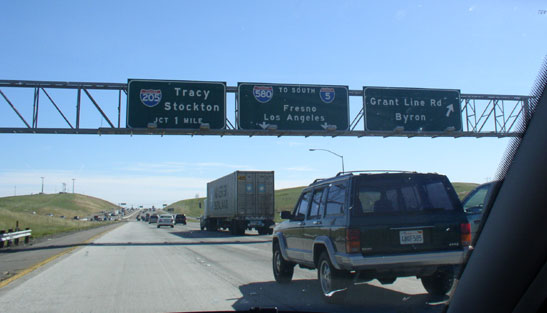 Passenger's view on I-580 eastbound, approaching I-205, near Tracy, Calif. The windshield was already starting to cake up with dead insects. Photo taken March 28, 2003 by Kurumi.
One large interchange
I-205, I-580, and I-5 share three interchanges, all of them incomplete. For example, from any point on I-205 there is no direct freeway access to I-5 south (not even via I-580 east, because there's no access to that either).
All of I-205 and segments of the others form three legs of a large complete three-way interchange between I-5 and I-580.
See also: Dan Faigin's I-205.
I-205
Oregon; Washington
(link)
36.64 miles [1

]; serves Portland, looping east of I-5. The segment south of I-84 was finished around 1975. The northern segment, including the Glenn Jackson Bridge over the Columbia River, opened On Dec. 15, 1983. [8

] (However, a retrospective article in the Vancouver Columbian has the year as 1982.) (Thanks to Jason of OR Roads for the link.)
I-205 is locally recommended as the best way to get around: "At the southern junction in Oregon, the guide signs say to use I-205 to Seattle and I-84. It also has a sign that diagrams the area showing I-205 looping around Portland. At the northern junction in Washington, the I-205 guide signs says to Salem and I-84. Washington did not put up an elaborate diagram sign to illustrate the loop. The advantage to the I-205 loop is that it avoids downtown and the Interstate Drawbridge on the Columbia River on I-5." [4

]
A tree grows in Brooklyn?
Portland is famous and notorious for its policies favoring mass transit and discouraging suburban development. Several freeways were cancelled in the area and the city dismantled a downtown freeway.
In this context, a proposal to widen I-205 from four lanes to six raises eyebrows. Temporary lanes will be built to route traffic around an existing project on the highway, but would be torn up afterward. Oregon congresswoman Darlene Hooley wants the lanes to be upgraded and left in place to widen the freeway. "As I sit in traffic, I see Oregon's economy idling on that road right along side of me," she told television reporters. [6

]
See also:
Route Log and Finder List - Interstate Highways, FHWA, Oct. 31, 2002.
"History of California's Interstate Routes." California Department of Transportation, November 1984.
Wiley, Mike
Richards, Gary. "Mr. Roadshow." Weekly column, San Jose Mercury News, Aug. 2, 2002.
"Plan unveiled for I-205 traffic widening." KGW-TV (Portland, Ore.), Feb. 20, 2003.
Richards, Gary. "Roads, ramps to open soon across region." Weekly column, San Jose Mercury News, April 28, 2003.
Oregon Department of Transportation. "A chronological history of ODOT: 1899 to 1993." http://www.odot.state.or.us/ssbpublic/bss/rmds/history/~chron.htm (12 March 2004)